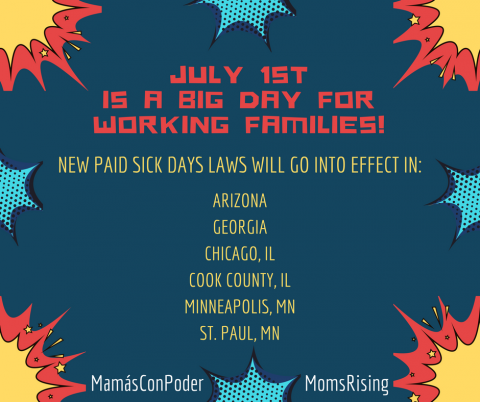 Paid Sick Days: Coming to a City or State near YOU on July 1st!
Do you hear that? Celebratory fireworks are going off early this year! And no, it's not your over-eager neighbors this time. 
On July 1st, *SIX* new paid sick days laws will go into effect! 
Congratulations, Arizona, Georgia, Chicago, IL, Cook County, IL, Minneapolis, MN, and St. Paul, MN! And THANK YOU to all of the local grassroots coalitions, lawmakers, and MomsRising members who made their voices heard to help bring these campaigns to victory.
You emailed, called, shared your personal stories, voted, testified, and made sure the working families in your communities wouldn't have to continue to face the 
impossible choice between staying home with a sick child – and losing a day's pay or even their job – or sending their little one to school sick so that they can keep food on the table and make ends meet.
To learn about each of the new paid sick days laws, click below:
Don't have guaranteed paid sick time in your city or state yet? Let's fix that! Ask your elected officials to make paid sick days a priority!