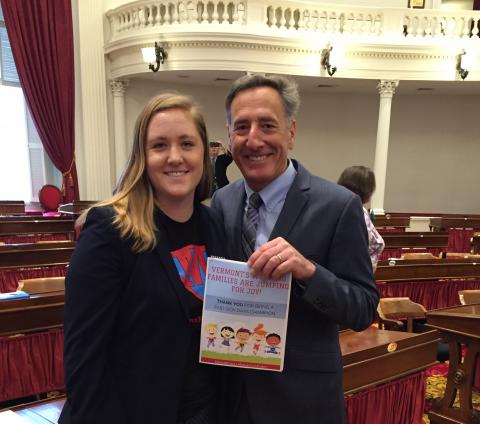 Paid Sick Days are now the LAW in Vermont!
WE DID IT! Paid sick days are now the law in the Green Mountain State.
Share the great news! Make sure your friends and family know about their new workplace right
– Just click on the button below to easily share this celebration graphic on Facebook:
Thanks to the leadership of Voices for Vermont Children, the Main Street Alliance of Vermont, and hundreds of MomsRising Members across the state (including you!) who raised their voices for paid sick days, the Vermont legislature passed the paid sick days bill in February!
Last week, I had the honor of standing by Governor Shumlin as he signed this family and economy-boosting bill into law. What a momentous day for working families in Vermont! Now employers will be required to provide workers (who work more than 18 hours per week) with three paid sick days for the first two years that the law is in effect and five days thereafter.
This great news deserves BIG celebration, so we delivered giant thank-you cards to the Governor and other Vermont lawmakers who were key in passing the bill! The cards contain the signatures of Vermont MomsRising members who took action on this campaign over the past year.
CHECK OUT PICTURES HERE!
Feeling proud of Vermont today? Join me in celebrating Vermont's newest law - paid sick days! Make sure your friends and family see the news: 
The passage of paid sick days in Vermont means that tens of thousands of workers now don't have to worry about losing a paycheck, or even their job, when illness strikes and they or their children need to stay home. This is a BIG deal and now it's time to celebrate!
Thank you for all that you did to help pass paid sick days in Vermont! Together, we're a powerful force for women and families.