Nat'l Foster Care Month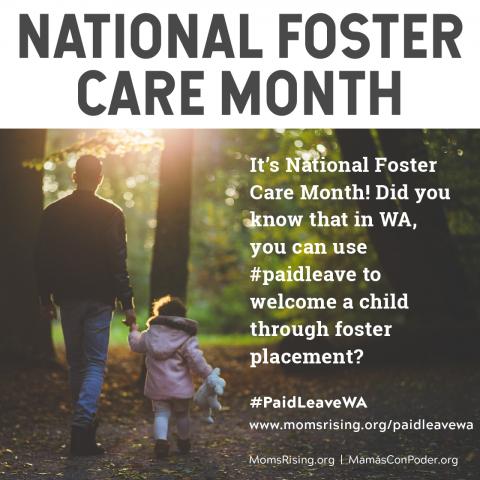 Paid Leave is for Foster Families too
Since 2004, The Mockingbird Society has worked to ensure that youth who must enter the foster care system are placed with foster parents who are well resourced and supported in a constellation known as MOCKINGBIRD FAMILY™. MOCKINGBIRD FAMILY™ is an empowerment-based approach to foster care, reflecting how generations of communities have cared for children – as an extended family. It creates an intentional community comprised of an experienced foster parent providing support and guidance to 6 to 10 foster families (6 to 18 children and youth). In these micro-communities, or constellations, parents and youth support each other. Children and youth have typical childhood experiences: stability, safety, community, and a supportive family structure. Foundational elements that help young people thrive in and out of care. In addition, countless Mockingbird Families have adopted children in out-of-home care and while their constellations came together to celebrate the addition to their family, society paid no mind and adoptive parents were not guaranteed parental leave.  On leave, biological and adoptive families have the opportunity to build that close bond so crucial for a child's brain development.
Celebrating the adoption, foster placement, or birth of a child into the family is one of the most important moments for any parent. Those first few days with a new child are not just about happy moments though. They are crucial for the child as research has repeatedly demonstrated the impact of the ability to build that loving bond on a child's brain development. Evidence from the fields of neurobiology and developmental psychology have confirmed that the brain development of a child depends largely on their ability to build a healthy attachment to a primary caregiver, usually a parent. Studies have also shown that the lack of a healthy attachment can lead to long-term mental health problems as well as to reduced overall potential and happiness. For years however, here in Washington state parents, biological, foster, or adoptive, have not been provided with the resources or supports to be able to stay home during those first few days.
That all is set to change on January 1st, 2020 when Washington families will have access to one of the most robust Paid Family and Medical Leave programs in the country. Anyone who has worked at least 820 hours in the past year will be able to take:
12 weeks of paid family leave to bond with a new child after birth, adoption, or foster placement or to care for a seriously sick spouse, domestic partner, child (including adult children), sibling, parent (including parent-in-law), grandchild, or grandparent OR

12 weeks of paid medical leave to recover from their own serious medical condition
Workers will also be able to combine Paid Family and  Medical Leave to receive 16 weeks total of paid leave per year. Importantly, foster parents can use leave for multiple foster placements throughout the year up to 12 weeks. For example, let's say a foster parent welcomes one child into their home in January and another child joins the family in May. The foster parent could take 6 weeks of leave to bond with the first child in January and then take another six weeks of paid leave in May.
Families will soon have access to this program  in no small part due to the powerful advocacy from moms, dads, grandparents, small business owners, and community members, just like you, who through their lived experience were able to highlight the need for such a law. One of the strongest advocates of the law were foster parents who adopted children from the state's child welfare system. When young people in out-of-home care are unable to return to their biological parents despite reasonable efforts, the next best thing is to find a forever home for them. And often, it is the foster parents who have cared for the youth that have been able to provide that forever family.
Unfortunately, however, up until now society had never celebrated or recognized the importance of an adoption from foster care like the birth of the child, when in fact it is just as important, if not more given the amount of trauma most youth in foster care have experienced. Providing adoptive and foster parents and their children the time to build a healthy attachment does not just benefit them, but society as a whole as those youth who are adopted and allowed time to build a positive relationship will hopefully not experience the same outcomes as those youth who linger in foster care. Outcomes such as increased post traumatic stress disorder, low high school graduation rates, homelessness or incarceration. When seen from this perspective, the costs associated with providing paid family and medical leave seem miniscule in comparison. More importantly however, from a child's perspective, it allows them time to build a strong bond with their primary caregiver and experience the love we all need in our lives.
Thank you to MomsRising and all the organizations and individuals that took it upon themselves to advocate and fight for this program, which acknowledges the importance of chosen family and the impact foster parents have in the lives of those they support. Thank you for making it possible for adoptive families to have the necessary resources and supports to stay home and care for their chosen loved one.     
Learn more about The Mockingbird Society here.
Resources about WA Paid Family and Medical Leave Program: