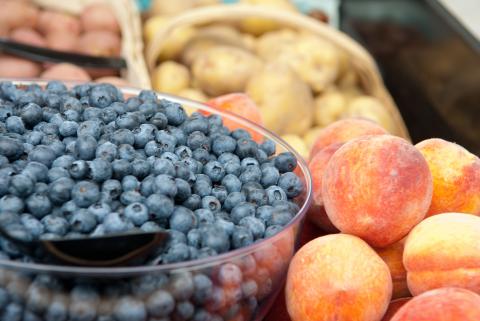 Of Angels and Healthy, Affordable Foods in Minnesota
In this era of political disagreement, it's unusual to see political parties put aside their differences, join hands and work together for the greater good. But that's exactly what happened recently in Minnesota around efforts to improve and increase access to healthy and affordable food.
Minnesota is one of the lowest ranked states in terms of access to healthy and affordable foods, according to an April 2016
report
prepared by the Federal Reserve Bank of Minneapolis and Wilder Research. Hundreds of thousands of Minnesotans currently live in areas where they have limited or no easy access to foods such as fruits and vegetables, low fat dairy, whole grains and lean meats and poultry. More than 340,000 Minnesotans face both distance and income as a barrier to obtaining those foods, and approximately 235,000 Minnesotans live more than 10 miles away from a large grocery store or supermarket. It is not unusual for some to even live 20 or 30 miles or more away from such stores. To make matters worse, a recent survey of rural Minnesota grocery store owners by University of Minnesota Extension found that 62 percent of respondents intend to own their grocery store for 10 more years or less and the vast majority do not have a transition plan in place to help assure the store will continue to operate. That means, if nothing is done to address the situation, a serious problem will get even worse.
Like many states, Minnesota's food access problem exists in rural and urban areas alike. It affects young and old, as well as diverse communities throughout the state. For those living in regions with limited access to healthy, affordable foods there are disproportionately higher rates of obesity, diabetes, heart disease and other diet-related health problems.  It is also one of the key contributing factors to the health disparities that currently exist in Minnesota among many communities of color.
To begin to address this growing problem, a group of health, food, agriculture and community-investment interests, led by the Minnesotans for Healthy Kids Coalition with financial and technical support from Voices for Healthy Kids, began a campaign to create and fund a Healthy Food Financing Initiative (HFFI) in that state. Referred to as the "Good Food Access Fund" the proposal would provide grants, low-cost loans, and technical support for food-related enterprises in areas of the state where people don't have the ability to choose healthy, affordable foods. Those enterprises could include new or enhanced grocery stores, mobile markets and farmers' markets, fresh food refrigeration, and other innovative, community-driven solutions.
Rachel Callanan, the chair of the Minnesotans for Healthy Kids Coalition, saw 2016 as a building year for the effort. After all, the proposal was new, time was needed to familiarize legislators with the workings of an HFFI, there were lots of competing funding proposals before the 2016 legislature, and the legislature was deeply divided going into an election year. Said Callanan, "the goal was to spend 2016 educating the public and decision makers alike about the extent of the problem, its impacts and the potential benefits of an HFFI."
But then a funny thing happened along the way. First, the chairs of the Senate and House Agriculture Committees, a Democrat and a Republican respectively, quickly embraced the legislation, becoming its chief authors. They were joined by an array of Democrats and Republicans – urban and rural alike – who became cosponsors. Committee hearings that were originally thought to be simply listening and learning sessions resulted in unanimous votes in favor of moving the HFFI legislation forward. "We expected the legislation to stall out, but it did the opposite, it continued to build momentum," says Callanan. The momentum was helped not only by the bill's bipartisan support, but also committee appearances by physicians, agricultural and food experts, health experts, financing experts and equity advocates.
In the closing days of the legislative session, the Minnesota Legislature created the Good Food Access Program and provided an initial $250,000 in seed money. That consensus occurred in spite of the fact that heated political battles resulted in the legislature adjourning without passing a bonding bill or major transportation bill.
What all of this means is that when it comes to giving the public the tools to access healthy and affordable foods, and thereby helping to improve the health of families, children and seniors, politics can take a backseat. The health and economic costs of not allowing smart, common-sense efforts designed to help feed people good food through the creation of HFFIs are far too great.
Voices for Healthy Kids sees HFFIs as one of the key tools in the effort to provide healthy and affordable food to children and youth throughout the nation and thereby help to reduce the negative health impacts brought on by unhealthy eating. When an outlet – such as a grocery store or mobile market isn't available – families often default to less healthy outlets such as convenience stores, gas stations and corner stores.
In his first inaugural address, Abraham Lincoln used the term "the better angels of our nature" in describing the ability of Americans – of human beings – to do what is right and just. In the case of Lincoln, he was referring to his hopes that the United States would avoid civil war. But that term can also rightly be applied to the current political agreement that we are beginning to see around the nation related to efforts to provide access to healthy and affordable foods.