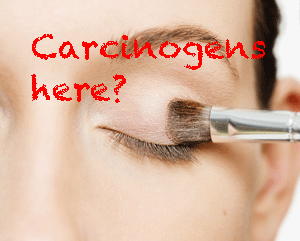 NO to cancer risk with our makeup!
Makeup can be intimate. When I use it, I may brush it around my eyes and massage it into my face.
It should never contain chemicals that could cause cancer.
Our friends at the Campaign for Safe Cosmetics recently investigated L'Oreal products commonly found on store shelves, and the results were the opposite of pretty. Not only did they find carcinogens in L'Oreal mascaras, eyeliners and eye shadows, but also in the anti-aging creams, nail polish and hair products made by the company's most iconic brands, Maybelline and Garnier.
This makes me furious, because this is a company that has spent decades telling women we're "worth it." If L'Oreal really believes we're worth it, why does it continue selling us products that could increase our risk of getting cancer?
But wait, there's more. The Campaign for Safe Cosmetics found that L'Oreal's kids' products aren't free of potentially cancer-causing chemicals either!
Their investigation identified DMDM hydantoin in L'Oreal Kids 2-in-1 shampoos, a chemical that releases formaldehyde to preserve the product. Formaldehyde has been designated a carcinogen by the International Agency for Research on Cancer and the United States National Toxicology Program.
Companies like Johnson & Johnson have already removed formaldehyde-releasing chemicals from its children's products, proving L'Oreal could and should be removing these chemicals as well.
Women and families need to tell L'Oreal that we really ARE worth it, and we deserve personal care products without toxic chemicals that could cause cancer.
Together, we must and will hold major corporations accountable! Together, we'll be a strong voice for healthy, cancer-free women and families.
* Would you join the chorus of moms and family members telling L'Oreal to remove chemicals that could cause cancer from their products now?
TAKE ACTION ==> http://action.momsrising.org/sign/LOreal_ToxicChemicals/?source=blog