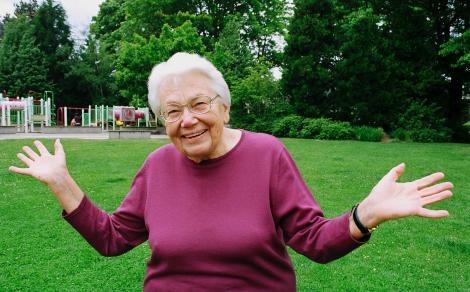 Whenever she caught one of us gossiping 
or being petty, my mom used to say, 
There are three kinds of people in the 

world: People who talk about other 

people; people who talk about things; 

and people who talk about ideas. 
With those words, she made it crystal clear 
she expected us to grow up to be idea 
people.
But she didn't just talk; she role 
modeled the concept, everyday.
Here's a good example: visualize a mild 
mannered grandmother, walking near 
her home in a Seattle neighborhood. She 
spots a group of kids horsing around in a 
construction pit, hurling splintered boards 
and debris.
Some would have turned away 
in disgust, muttering about "bad parents" 
and broken homes. Others, alarmed by the 
hazards of rusty nails and splinters, would 
have voiced a sharp "be careful, kids!" 
before moving on.
But for my mother, the sight of those 
youngsters sparked an idea, a big 
idea. She vowed to create a park so all 
neighborhood children would have a decent 
place to play. 
Then she started knocking on the doors 
of perfect strangers, and gradually, she 
converted dozens of strangers into a 
friendly, organized band of volunteers. 
Together, they began pressing officials, 
raising money, and jumping through hoops 
to create a park. 
In the two decades since my mom spotted 
those kids playing in that construction pit, 
she and her group have built slides, swing 
sets, sandboxes, a sports field, a skate 
park, several community P-Patches and 
Pocket Parks, altogether creating 14 parks.
Today my beloved mom is an 83-year-old 
great grandmother. Sometimes you can 
spot her weeding in one of the parks she 
created, smiling as she counts the little ones 
playing all about. 
In an era when politics makes most of us 
want to scream and run the other way, she 
mentored a small army of younger folks, 
showing them how they too can be effective 
in the public sphere. Her ideas transformed 
a fractured neighborhood into a community. 
Her comrades forge ahead, pressing for 
wildlife habitat, bike paths, and more pocket 
parks. When they need inspiration, they call 
my mom.