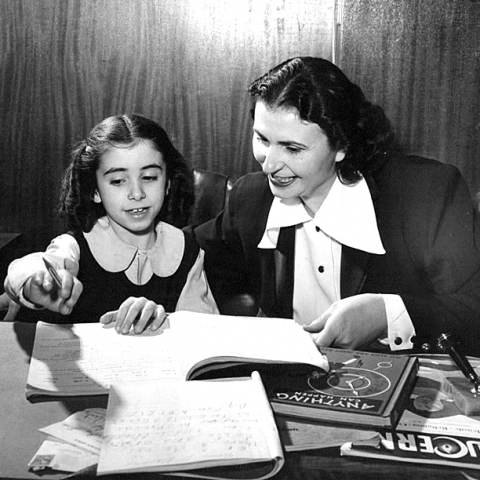 My mother has been my role model throughout my life.
Strong, capable and compassionate, Nancy D'Alesandro was a woman of incredible energy and endless devotion to my brothers and me.  She was deeply religious and she taught us the importance of faith, family and community service.
My mother lived every day of her life by those principles.
My brother Tommy proudly tells stories of her during the Depression, how as a young woman she embodied the love of neighbor. When she saw people in need, she always tried to help.  Sometimes people needed food.  As Tommy said, when he was a little boy, we never knew how many people would be at the dinner table.
When my father became Mayor of Baltimore, my mother made affordable housing her priority as First Lady.  For as she said then, "How can we expect the parents to teach their children love, faith and tolerance when they have no homes?  When the home fails, the community fails, the nation fails."  A big part of her sense of the home was her appreciation of the importance of mothers.
She always advocated for the empowerment of women.  She saw the importance of women in the home and society and our nation.  I can remember from my earliest years, her speaking passionately of the need for women to have more opportunity.
I remember towards the end of her life, during the Clinton Administration, how proud she was of all the women he appointed to high office.  She would always want me to be sure to tell them how happy she was for them and how she prayed for their success.  She knew that when women succeed, America succeeds.
She would be proud of the pillars of our economic agenda: for America's mothers to have fairness in their paycheck through equal pay and a higher minimum wage, security in the workplace through paid family and sick leave, and support in the home through affordable child care.
Her incredible stamina and great intelligence served her well as a mother.  Because she was first and foremost a mother.  She so enshrined that role in the following prayer she wrote about her own mother.
"Mother I think of you, Guardian Angel of my childhood," it begins.  "Who can fathom the real meaning of the word mother?  Whose hearts are not filled with the memory of her, who has never stopped loving us from the first moment of our existence, when, like a ray of sunshine she beamed down into our cradle, when the fingers of care and worry had not yet touched our hearts?"
I look forward to spending Mother's Day with my children and grandchildren.  But I also look forward to a Mother's Day when all women can enjoy equal opportunity. Because when women succeed, America succeeds.