MomsRising.org at Netroots Nation -- Pics and Audio Included! #nn13
The MomsRising.org staff members who attended Netroots Nation from left to right: Angélique Roché, dream hampton, Elisa Batista, Kristin Rowe-Finkbeiner, Karen Showalter, and Anita Sarah Jackson
SAN JOSE, Calif. -- Six MomsRising.org staff members were in San Jose, California last week to partake in a series of activities at the Netroots Nation activism conference. It's a place where grassroots and Internet activists can swap ideas on issues and best practices.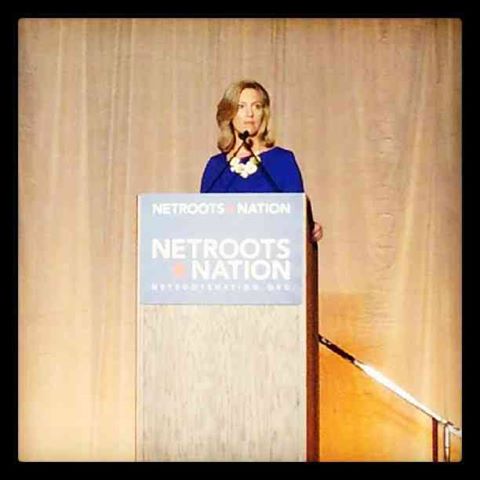 What was especially exciting for us is that our issues -- namely, family economic security -- were front and center at the conference this year! Our executive director, Kristin Rowe-Finkbeiner (pictured on right), gave a keynote "Ignite" speech and received roaring applause especially for this line, which was one of the most re-tweeted at the conference: "The problem isn't that moms work in this country, it's that this country doesn't work for moms."
She also interviewed an incredible slate of people -- live! -- for MomsRising Radio. You can listen here.
The conference boasted more than 3,000 participants and was chock-full of panels, workshops, keynote speeches -- and the fun part -- the parties. For the most part, we split up as a group to attend panels and workshops related to our issue areas. I attended women's, immigration, climate change and family economic security panels. Here are some pics I took along the way:
The family economic security panel from left to right: Kristin Rowe-Finkbeiner, dream hampton, Strong Families' Communications Director Shanelle Matthews, and National Domestic Workers Alliance CEO Ai-Jen Poo
Photos from left to right: Strong Families gave out placards with Favianna Rodriguez's beautiful artwork; I met U.S. Rep. Luis Gutierrez of Illinois after a breakfast on the immigration policy reform bill. He gave me an advance copy of his memoir, Still Dreaming: My Journey from the Barrio to Capitol Hill, which I look forward to reading!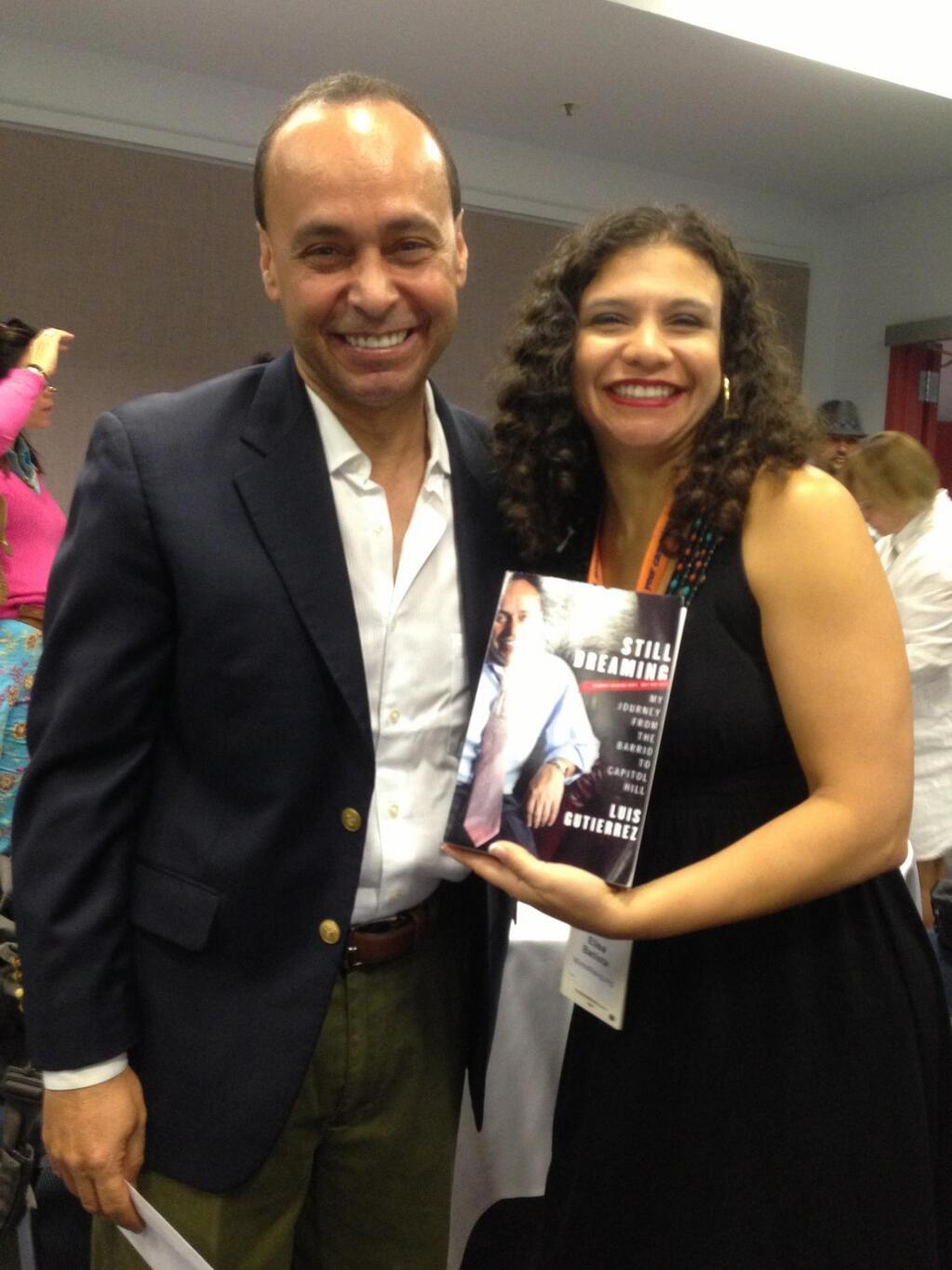 Photo: The three women in the middle are champion legislators on our issues, including Antioch, California, City Councilwoman Monica Wilson; California Assemblywoman Fiona Ma; and U.S. Rep. Barbara Lee of California. The three women shared their experiences holding office and encouraged all of us in the room to run.
Similarly, I attended a session on "mansplaining" -- it's when men talk down to women because they think they know more about a topic when it isn't the case. :) Photo from left to right of panelists who offered tips to handle "mansplainers": Blogger Duncan aka "Atrios" Black; UltraViolet co-founder Shaunna Thomas; feminist writer Amanda Marcotte; entrepreneur, blogger and social media consultant Cheryl Contee; and moderator Sarah Lane.
For the climate change panel, our Kristin Rowe-Finkbeiner spoke of the importance of personalizing the issue: "People who have abandoned climate change see it as a political football and not personal. Kids with asthma is personal." Climate change panel from left to right: Political activist and entrepreneur Darcy Burner, U.S. Senator Brian Schatz of Hawaii, U.S. Rep. Henry Waxman of California and Kristin Rowe-Finkbeiner
Photos: Tickled to see MomsRising members wearing their t-shirts! We gave them out at the Parents Caucus, which I co-hosted with Anita Sarah Jackson

MomsRising is a virtual organization, which means we all work out of our homes and live across the country. Between my co-workers and I at Netroots Nation, we drove in from California and flew in from Michigan, Washington state, Pennsylvania and Washington D.C.. Whew! How could we be at the same conference and not spend some time together? Included in this photo is a husband and four kids.