MomsRising of North Carolina celebrates MLK Day with kids, crafts
NC MomsRising, Northgate Mall and a number of area mothers' associations and nonprofit organizations hosted the 4th annual "Children's Birthday Party for Dr. Martin Luther King, Jr."  Monday, January 20, 2014 from 10:30am-12:30pm to celebrate Dr. King's life and legacy in a way children can understand. The free party took place at Northgate Mall's Center Court located at 1058 West Club Boulevard in Durham.
The free event featured Dr. Charmaine McKissick-Melton who, along with her sisters and brother, was one of the first black children to desegregate Durham Public Schools. In a story time geared for preschool to middle school students, Dr. McKissick-Melton shared her experiences integrating Durham's elementary schools as a young child and growing up in a family at the heart of the civil rights struggle. Her father, Floyd B. McKissick Sr., was the first African-American to successfully sue UNC Chapel Hill's Law School for admission. He became a civil rights attorney, a judge, the national director of the Congress of Racial Equality (C.O.R.E.), and founded Soul City.  He was among the speakers at the 1963 March on Washington.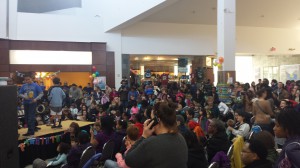 An estimated 1600 people turned out to celebrate MLK Day with MomsRising in Durham, NC.
Children of all ages enjoyed the story time, freedom songs, and birthday cake, and participated in crafts and on-site service projects. With different activities designed for preschool, elementary school, and middle-school aged children, the event also featured MusicianCorps, who performed and showcased freedom songs and instruments that played a key role in the Civil Rights Movement; the children's dance troupe El Centro Hispano; a photo exhibit; and other activities.  In retelling the story of the historic struggle to integrate Durham schools, the event raised awareness of current efforts to continue Dr. King's legacy in North Carolina by ensuring all children have access to high-quality public education.  Spanish translation was provided.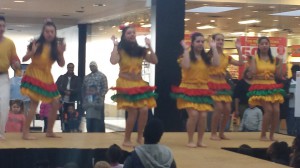 Dancers celebrate at MomsRising's MLK Day event in Durham, NC.
In keeping with Dr. King's commitment to service, the organizers asked participants to bring either non-perishable food to donate to the Interfaith Food Shuttle's Backpack Buddies program or a pack of new children's underwear to support Urban Ministries of Durham which also serves local families in need. Voter registration and information was also available.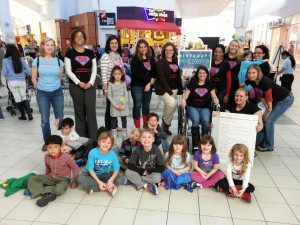 Event organizers and participants gather for a photo at MomsRising's MLK Day event in Durham, NC.
Sponsored by NC MomsRising, Northgate Mall, Lango Kids, Durham Mothers Club, Chapel Hill/Carrboro Mother's Club, Kids Voting Durham, and MomInChapelHill.