MomsRising Near You – FAQ about Sparking a Gathering, Recruiting Attendees & More!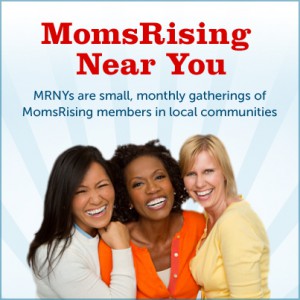 Last week, MomsRising launched our newest big idea, MomsRising Near You (MRNY), and the response from MomsRising members has been fantastic! In fact, we received some amazingly perfect questions about the MRNY program – so good, that we wanted to share them with everyone who is interested in hosting or attending a MomsRising Near You gathering!
NOTE: If you're ready to spark a gathering in your community you can visit the MRNY event page to start planning today: http://www.momsrising.org/events/create_event/0/0 . 
However, if you more interested in just attending a gathering that another member is hosting near you simply click here: http://www.momsrising.org/events/create_event/1/0
  Question:  How can you gather your community when everyone seems so busy and over-committed already?! 
Answers:
Take advantage of existing meetings – church groups, PTA meetings, moms clubs, etc.
Try different locations/times – you can meet at the park, a bar, café, your home, etc.
Observe where people are gathering already!
Think fun – so often we're juggling too much and we don't have time to relax.  We want to make this an opportunity to connect and have great conversations, not to make it feel heavy and like another task.
  Question: Are we responsible for inviting all the people or do you provide a way for us to connect with other MomsRising members?
Answer:  Both!  If you want to keep your gathering private, you can!  If you want to make it public and have us share it with MomsRising members in your area, you can do that too!  It's completely your choice. We expect that many people may start with people they know and once they hit their stride, they'll open it up.  Other people will want to host specifically to meet new people and they'll want to open it up right away.   There's no expectation or pressure from us to do it either way.
  Question:  Can grandparents be a part of this or is this just for young mothers?
Answer:  We love grandparents!  MomsRising Near You gatherings are absolutely open to anyone who cares about issues impacting moms and families.  We find that grandparents, aunts/uncles, caregivers, etc. often have time that parents with young children particularly don't have.  So we count on you to carry our messages forward and share your experience and perspectives on these issues.  We hope you'll join us!
  Question:  For mothers in high-poverty communities and who for these issues have a greater impact, can you suggest venues that might work? 
Answer: We understand that moms are working jobs, sometimes working many jobs, and so this idea of finding the time to come together to meet can be a difficult one.  We would suggest trying things at different times – weekends, evenings and in locations where people can bring their kids.  Some locations that might work include local library meeting rooms, churches, local parks, a supportive community organization's office, a local restaurant and more.
  Question: I live in a rural area.  Do you have suggestions about how to spread the work about something like this?
Answer:  We'll provide many online materials you can adjust and tailor to spread the word about your gathering.  Additionally, we'd suggest putting up fliers in places where moms congregate – libraries, schools, preschools, etc.  In rural situations, we've found calling and making contact with people who may be able to spread the word is critical so you can save on time and travel.   So, are you ready to SPARK a MomsRising Near You gathering or ATTEND a gathering in your community? We sure hope so! If you have any further questions or need more information, check out the MomsRising Near You page or email the MomsRising team at MRNY@momsrising.org. Happy Gathering!