Say You Will!
The Lowdown:

Want to let other people know about this so they can come too? What's your zip code so we can get started and put you on the map so others can attend too?

Having other people join you is easier than it first looks! We understand that most people won't know the date or location to start. So feel free to fill in the form below later when you have that info (We'll email you with info on how to do this). Speaking of which, can we let local MomsRising members know what you're doing so they can get involved too?

Details

(Feel free to leave this Details section blank until you have settled on a date. Just remember to scroll down and "Click Here To Put It On The Map" below now so that we can stay in touch, and we'll email you how to sign in and update your Details later when you're ready. FYI: If you don't fill in a date below, then the system may default to record today's date. Don't worry! You'll be able to update the date later!)

Should we list your gathering in search results?

MomsRising Near You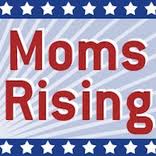 MomsRising Near You is a fun way for our members (and their friends) to gather together in-person to talk about important current topics and hang out with other awesome superhero moms once a month. Here's how it works: You pick the place to gather. Then MomsRising will provide you with fun content to spark conversations. We'll even provide you with an easy discussion guide with cool questions you can cover, interesting videos, interactive games for kids and more!
Click on a photo to learn more