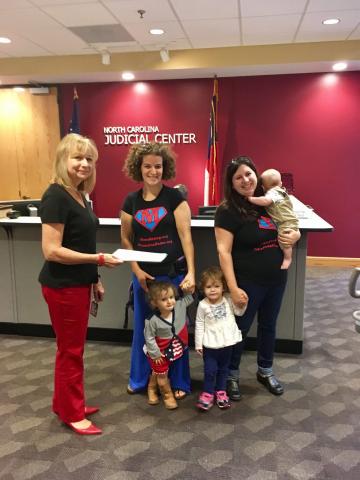 MomsRising members stand up for mothers' rights to breastfeed!
Late last month I was joined by a number of NC MomsRising members to stand up for breastfeeding rights in our state by hand-delivering the over 500 signatures and comments from our members across the state to the NC Administrative Office of the Courts. 
Why the delivery? Well, unfortunately, recently, two mothers were asked to stop breastfeeding their babies in North Carolina courtrooms;
one by a judge
,
one by a law enforcement officer
. This was a clear violation of those mothers' rights to breastfeed their children in public and MomsRising members weren't having it.
We put out a call to action urging our members to ask the Administrative Office of the Courts to ensure that court employees are informed about women's rights to breastfeed in public and prevent this kind of discrimination from happening again.
Hundreds of MomsRising members took action and overwhelmingly told us that no mother should ever be shamed, humiliated, or harassed while breastfeeding her baby.
  One member asked the Administrative Office of the Courts:
"[to] train all persons related in our court system to understand and accept that breastfeeding in public is legal..."  
Another shared her experience,
"I breastfed my daughter in public many times when she was a baby. Luckily, I almost always heard supportive messages from others around. It would have been extremely discouraging to hear negative messages about feeding my child."
Then on Friday, October 29, we delivered those comments and signatures and all of our members messages, to the administrative arm of the judicial branch, the North Carolina Administrative Office of the Courts. 
I was joined by two members and their babes.  We had a few toddlers and a baby between the three of us.  
The Director's assistant met with us to accept the signatures and assured us that the Director would recieve our package.  
Now that we've delivered the signatures our next step is to follow up with a meeting with the Director of the NCAOC to talk about how to ensure that all moms have the opportunity to breastfeed their babies.
Thank you for taking action! I'll keep you posted as this moves forward!