Take Action!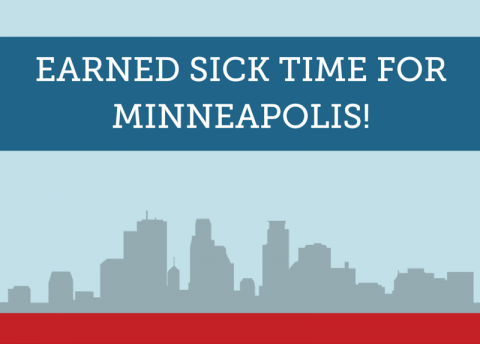 Minneapolis is on the cusp of passing earned sick time!
We're so close! Minneapolis is on its way to becoming the first city in Minnesota to guarantee earned sick time. In fact, theMinneapolis City Council is planning to amend the ordinanceon Thursday and hold on vote on Friday. Before they vote, your City Council Member needs to hear from YOU!
Tell the Minneapolis City Council: PLEASE PASS EARNED SICK TIME!
Why does Minneapolis need an earned sick and safe time ordinance? Over 40% of workers in Minneapolis, predominantly women and people of color, can't earn a single paid sick day to care for themselves or a loved one when illness strikes. This is a dire situation. For the average family without earned sick time, just 3.5 days of missed work is the equivalent to an entire month of groceries.
Minneapolis families can't afford for this ordinance to stall! Nobody should have to choose between a paycheck and their health – or that of their children.
Take a moment to easily send an email straight to the inbox of your Minneapolis City Council Member! Urge them to pass earned sick time this week!
This is an incredibly exciting time for working families inMinneapolis! Sending your City Council Member a message will ensure that they know you're watching how they vote on this issue and that their constituents are counting on them to do the right thing. Your voice is powerful!
Take a moment right now to join with the other MomsRising members from across Minneapolis, like Dayna and Tani, who are sharing their personal stories about why getting this ordinance passed is so important.
"For me, not having earned sick time means going to work sick because I can't afford to lose the money. It means worrying about my children because I cannot stay home with them, or take them to the doctor. It means my children do not get the checkups they should." - Dayna
"As an elementary school teacher in Minneapolis, I have often had very sick children in my class because their parents cannot afford to take time off work to care for them. We need earned sick time in Minneapolis!" - Tani
Join Dayna, Tani, and hundreds of other Minneapolis MomsRising members in taking action for earned sick time! 
The Minneapolis earned sick time ordinance has been crafted and is supported by workers, community leaders, and small business owners alike. The ordinance would benefit 123,000 people who work in Minneapolis by enabling them to earn up to six paid sick days each year. Countless local businesses will also benefit because implementing earned sick time reduces turnover costs, boosts workplace morale and productivity, and helps stop the spread of illness among workers. Earned sick time is truly a win-win for Minneapolis families AND the economy!
Take action now! Urge the Minneapolis City Council to PASS earned sick time this week!
Together, we're a powerful force for women and families in Minneapolis.