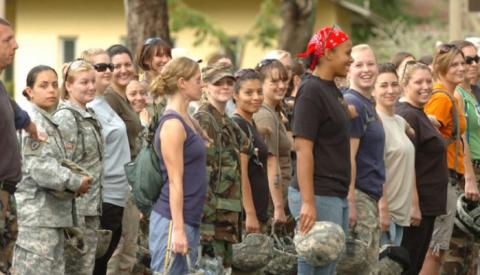 #MilitaryMonday: Why Military Spouses Can't Have it All
In mid-July, the Institute for Veterans and Military Families (IVMF) published the first in a three-part series regarding military spouse employment, titled The Force Behind
the Force: A Business Case for Leveraging Military Spouse Talent.
The purpose of the study was: "to outline some of the positive and potentially business enhancing characteristics of military spouses related to employment, the unique assets they bring to the workplace, and to describe the compelling business case to recruit and ultimately hire them."  
Four key takeaways:
1.) Always a hot political topic, the gender wage gap is discussed each presidential election cycle (women earn between 79 and 94 cents for every dollar men make, depending on who you ask).  For military spouses, it's not a "wage gap"; it's a "Wage Grand Canyon".
Female military spouses earn significantly less than their civilian female peers, given their educational level, with the exception of those with less than a high school education:
Doctoral: 45 cents for every dollar their peer married to a
civilian makes.

Professional Degree: 55 cents
Masters: 53 cents 

Bachelors: 60 cents

Associate: 65 cents

Some college: 64 cents

High School/GED: 69 cents

Less than HS/GED: $1.29
How these numbers haven't been reported by any media is beyond me as I think this should be considered a national embarrassment.    
2.) Military spouses have a significantly higher unemployment rate, roughly three times that of their civilian peers, due to:
"transient lifestyle with frequent relocations"

"Erratic and unpredictable military work and training schedules"

"lack and cost of childcare"

"responsibilities of single-parenting" due to military demands (deployments and training) on their active duty spouse
3.) "As a group military spouses are educated, motivated to work, and have attributes that employers value. Understanding the demographics of military spouses, their
unique challenges and assets is essential to developing a persuasive and successful hiring strategy that both benefits spouses and meets the needs of business simultaneously." 
4.) The study lists ten steps employers can take to help ameliorate the issue. Each of the ten listed were excellent best practices, but I couldn't help but think that I
would boil that list down to two:
1.) Hire them & 2.) Pay them what they are worth.
As IVMF moves forward into the 2nd and 3rd part of this series, I would recommend these two additional issues be addressed:
1.) The role of volunteer work military spouses accomplish and the value placed on it by potential employers.
In a recent interview, Kris Johnson, a former military spouse married 25 years to a senior Army
officer convicted of bigamy, fraud and adultery, was profiled; "She is in debt—a staggering amount of debt—to lawyers and to credit cards she usedto stay afloat and take care of the couple's two children during her divorce. Now Johnson works in retail. The military loves to tell dutiful military wives how much their volunteer work, organizational management, and people skills translate as valuable résumé builders. Johnson is a shining example of how untrue that is."  Many military spouses worry they may be the next Kris Johnson.
This issue of volunteerism hits home for me as well.  It's what I've done for the better part of the last decade.  While the recent experiences listed on my resume may not have a salary attached to it, I've worked on significant national level projects impacting military members and their families.  Though I wasn't paid for that work, it doesn't make it any less valuable.  From my perspective, it was work that needed to be done, and I felt it wouldn't be accomplished if I didn't step up.
In the hiring process, it is my sense that employers, both corporate and government, value those contributions significantly less because I wasn't earning a paycheck at
 the time.  It's ironic because I feel like I've made a bigger impact on the military community than I ever did when I was on active duty, helping tens of thousands of military families. If I had been able to work right after leaving active duty, I'm certain I could have found an excellent position just based on my Navy career, but, many years and a lot more experience since then, I am finding it difficult to find a job that pays anything near what I think my education and experience warrant (and more than the $15- $20/hour most military spouse programs seem to offer).  
In a recent interview, I told the audience that if I had to do it again, I would have forgone that volunteer work and focused on finding paid employment instead.  I also said I would recommend those just transitioning into the military lifestyle as a spouse to think very clearly before letting go of your career for any reason, much less volunteer work. 
That's a sad statement as military spouses provide exemplary volunteer service and billions in dollars' worth of support to the Department of Defense and their local communities each year. My belief is that corporate America and the government appreciates your service, but not enough to give you appropriate credit for it.  And while many groups tout that volunteer experiences count towards your resume, I fear that experience doesn't count for much or certainly less than you think it should. 
It's in DoD's best interest to find a way to help employers understand the value of the contributions these military spouses provide. To their credit, they are trying on the employee side (check out Military One Source), but I fear its not nearly enough, especially on the employer end. Failure to step these efforts up a notch will see military units going without support or DoD having to pay for those services as more and more spouses opt out of the volunteer network. Check out IVMF's reported "Ten Suggestions for Employers" on page 13 of their report for an idea where DoD can encourage employers (including the federal government) to take next steps. 
 
2.) A better understanding of the family dynamic that these relatively low wages and lack of career options place on military families and subsequently military readiness.
For military spouses, their ability to start and maintain a career has a significant impact on their families and subsequently on military readiness and retention.  To successfully understand the full picture, DoD must expand its understanding of the impact of the military lifestyle to include spouse careers and wages.  No family I know of considers only one spouse's income or career in a vacuum and neither should DoD.  As the IVMF report notes "Two incomes are often necessary for both civilian as well as military families, and there are intrinsic emotional, and financial benefits to consistent employment." 
Over the last five or six years, the White House, DoD, and Congressional leadership, led by the bean counters in the Pentagon basement, have led a charge to reduce military personnel costs, in pay and benefits.  In tandem (conveniently), defense think tanks across DC have noted how well service members are paid and how "luxurious" military benefits are, relative to equivalent civilian personnel (forgetting the inherent danger associated with military service). 
In 2012, when Congress and the President voted to cut military retiree's benefits, the NY Times and other newspaper editorials (also conveniently) ran stories about how "overpaid" military members were, CNN ran a rebuttal piece by Army spouse, Rebekah Sanderlin, who spoke for many military families noting,
"in homes spread across the country and all over the world, [we] looked around, trying to find signs of opulence among our damaged furniture and broken dishes, casualties of previous moves.  "Are we overpaid?" we wondered, mentally scanning our circles of friends -- solidly middle class, all of us. That is, those of us who've managed to climb that far."    
In 2015, Michael O'Hanlon, a senior fellow at The Brooking Institution, specializing in defense and foreign policy issues, noted the following at a symposium on military families:
"there are a lot of big challenges, and reasons why we shouldn't be complacent about military compensation, or feel that we should cut it….having to move from base to base, from one part of the country to the other, means that spouses often can't get work; and we saw the statistics earlier, apparently more than half are unable to find work, and of that group that are unable to find work most of them would like to work….I'm wondering if the next time we do a quarterly review of military compensation, there actually should be an adjusted metric that tries to acknowledge this effect, and factor it into the calculation about how well off military families are, relative to other families."
I don't expect DoD to jump at this idea as it might disprove one of their primary talking points, but others in academia, the media and in leadership positions should investigate this idea further.  If we are to have an honest conversation about compensation and its impact on readiness and fully understand the impact of the array of changes the President and Congress throw into each year's defense bill, it's critical to be considering all aspects of what it means to be a military family, including a better understanding of the difficulties military spouses have in maintaining a career while connected to Uncle Sam. 
I do realize this is a complicated subject, with many moving parts, but this IVMF study should be a wake-up call for an issue that our senior leaders, both in government and in the corporate sector, have admired for too long. It's time to start thinking outside the box, some of which will require our leaders taking a hard look at some topics, like the military's relocation policy, the elephant in the room, so to speak, and considering legislative initiatives that might make a difference.
Thanks to IVMF for laying down the gauntlet. Who is going to step up and do something about it?