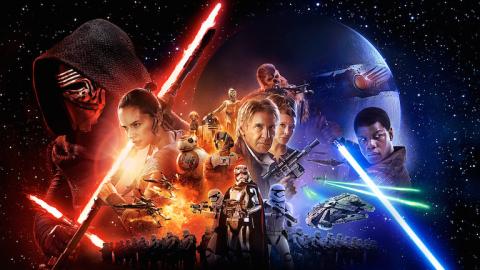 #MilitaryMonday: Military Kids are the Force of the Future
No, not that "Force"... the "Force of the Future", a hot topic recently within military circles, as Secretary of Defense Ash Carter has advocated a host of changes he hopes will bring the military personnel system into the 21st century. Secretary Carter called upon the Pentagon
"to think outside our five-sided box and try to make ourselves even better at attracting talent from new generations of Americans."
While the primary purpose of the personnel system is to recruit, train, and retain men and women to serve in our nation's armed forces, there is a critical audience that is being overlooked as reform is being discussed; military children today and the impact their current healthcare will have on that "force of the future". 
Two decades after the creation of TRICARE, the latest iteration of the military health system, 2016 is already being touted as the "Year of TRICARE Reform" by Congress and the White House.
Though appropriately lauded for its many capabilities and advances in combat care, a host of entities, including The New York Times, the Chicago Tribune and the Military Compensation and Retirement Modernization Commission (MCRMC) have pointed out significant issues with DoD's provision of healthcare to its military families.
DoD's own Military Health System Review found it provided "average care", noting a number of significant issues. One of the reviewers, Dr. Peter Pronovost, the senior vice president for patient safety and quality at Johns Hopkins Medicine, noted,
"The culture around safety, quality and access seems to be one of mediocrity rather than one of national leadership. "
After a DoD report on military pediatric healthcare stated it provided "adequate" care for military kids, the Senate Armed Services Committee responded strongly last year with this admonishment,
"The report deeply concerns the committee because data gaps and deficiencies in this area fail to substantiate the conclusion that the military health system meets the health care needs of children, especially those children with special needs."
The House Armed Services Committee noted last week,
"the committee remains concerned that the Department has not completed addressing the deficiencies noted in the report required by section 735 of the National Defense Authorization Act for Fiscal Year 2013." [the DoD report linked above]
So, we have bicameral, bipartisan criticism of DoD's deficiencies in its treatment of military children.  We noted those deficiencies almost two years ago, in our TRICARE for Kids' Coalition Response:
"In each of the nine areas of the Report, the TFK Coalition identifies substantial opportunities for the DHA [Defense Health Agency] and the DoD to work with the Congress and stakeholders to collect better data, increase transparency, enhance safety and institute changes to improve TRICARE for one of our most valuable resources, our military children.
One might wonder what pediatrics has to do with the "Force of the Future". Military service is increasingly becoming something that is handed down as a legacy within military families, similar to what Luke Skywalker says about his family. 
"The Force is strong in my family. My father has it. I have it. My sister has it. You have that power, too."
The "Force" is strong in military families…eighty percent of military recruits have a family member who is a veteran. Thirty percent of new recruits had a mother or father who served, meaning it is highly likely that the TRICARE child beneficiary today is the "force of the future" tomorrow.
With 70-plus percent of the population ineligible to serve and only 1 percent eligible and inclined to serve, the preventative and robust pediatric care provided today (or not) is not only a military morale and readiness issue for the current force, but a significant contributor to enhancing the pool of applicants for the force fifteen and twenty years from now, a time horizon DoD isn't always considering, unless it's a weapon system.
Our six-year-old son and all those who entered kindergarten with him this last September are the military's most likely "Force of the Future". DoD cannot lament the lack of wellness among the general population and ignore the health and well-being — physical and mental — of children in our current military and veteran families.
Instead, DoD should embrace "population health" with the most robust, forward thinking, best practices available today in prevention, screening, early identification and interventions, and coverage of essential health needs of children in its charge.
I realize that this isn't necessarily the case for those like my 13-year-old daughter (who has a number of chronic and complex medical issues), but then, comprehensive complex care management and resources plays a different role, as our daughter, and others like her, will be TRICARE beneficiaries for a long time, sometimes a lifetime. There are both fiscal incentives and readiness aspects to efficient, thorough, specialty care provision and coordination.
For our non-typical children, it is less about ensuring the health of a future recruit, but rather ensuring that today's military families have the services and supports, care and treatment that best meets their needs, so that Dad and/or Mom can focus on their roles in the Force today and decide to stay for the Future.
Besides being the right thing to do, help us remind the right people of the incentives for both populations that the care provided today has significant long term consequences for our nation's bottom line, something not always reflected in DoD's ten-year budget.
In 2010, President Obama signed Presidential Directive No.9, titled "Strengthening Our Military Families: Meeting America's Commitment", calling the care of our military families a national security imperative. I couldn't agree more, but we have much more to "do" and will require significant public-private partnerships between the military and the civilian communities surrounding military bases.
A great place to start is by looking to those in the community who already are working towards these goals, local children's hospitals. Children's National Medical Center here in DC is a great example of a local children's hospital that takes care of so many military children, especially those of us in the region whose children have complex care needs. The First Lady gets it. She was reading Christmas stories to children there in December, including a number of military children.
Local resources like these children hospitals already exist in so many communities and are at the forefront regarding complicated issues like complex care management and ensuring healthcare value for precious taxpayer dollars. We need to listen to them and other stakeholders as we consider military healthcare reform.
April is the Month of the Military Child.  There will be lots of politicians and senior leaders wearing purple.  Many more will acclaim how wonderful and resilient military kids are and how they are so appreciated. As I wrote in this piece,
"if politicians truly want to show appreciation for military families, they should take steps to ensure military families have appropriate healthcare." The Pentagon's Letting Down Our Kids, May 2013
With that, I'll leave you with this wonderful video of the cast of Star Wars at Children's Hospital Los Angeles a couple of months ago, making what are hard days for these kids and their families a little easier. May the Force be with you!