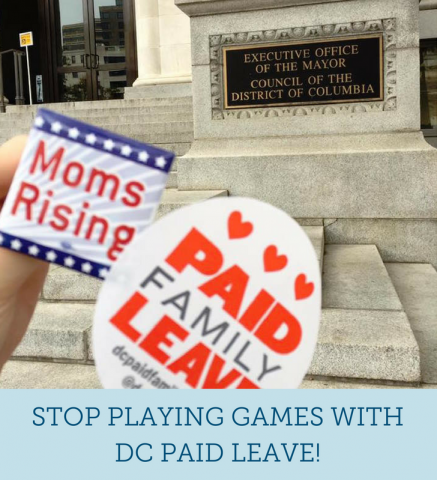 Mayor Bowser & the DC Council must fund the Universal Paid Leave Act and REJECT any "Repeal & Replace" bills!
Yes, the Universal Paid Leave Act was passed into law at the end of 2016 and just last month, Mayor Bowser let the bill become law. [1]
*** However, now some members of the DC Council are talking about "repealing and replacing" the new law before it even goes into effect. These Councilmembers are playing games with the paid leave insurance program we passed together, and are in turn playing games with people's lives and livelihoods. [2] This is not okay and we're not going to let them win!
Councilmembers Cheh (Ward 3), Evans (Ward 2), and Gray (Ward 7) have taken a page out of the Trump administration's playbook by introducing two different "repeal and replace" bills that would do just that – repeal and replace the Universal Paid Leave Act with ineffective, unregulated "employer mandate" programs. [3,4] Let's be clear: These bills are a front for the business lobby and weaken what you and I know DC families really need.
It's a matter of democracy – After more than two years of careful consideration, debate and compromise, the DC Council passed the Universal Paid Leave Act and now it's their duty to finish the job by funding the program through the budget process. Even if the Mayor and some members of the Council didn't support the bill, it's law now and thus their job to follow through by funding the program.
We won the first time and we'll win again by stomping out the terrible, horrible, no good, very bad bills introduced by Councilmembers Cheh, Evans, and Gray – and by ensuring that DC's paid leave program receives its rightful start-up funding to get up and running for DC families.
Together, we're a powerful force for women and families in DC!