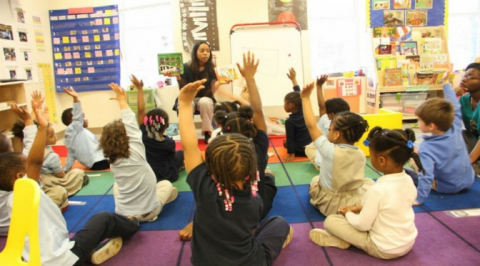 May 1: Resources for families as we stand for NC students, schools, and communities!
On May 1st, thousands of NC teachers, parents, students, and public school supporters will be headed to Raleigh for to stand up for our state's children, public schools, and teachers. As lawmakers finalize the state budget, they need to hear that it's time step up and fund the schools NC students deserve.
Thousands of NC teachers are taking a personal day to travel to Raleigh and speak out for their students and schools. In fact, so many teachers have called out of work that day that 28 school districts, representing more than half of NC's public school students, have closed for the day. This is an impressive show of solidarity and the decision the teachers made to walk out wasn't taken lightly.
To RSVP to join them in Raleigh on May 1, RSVP here.
**We're gathering comments about why parents, community members, and business leaders stand with our state's teachers and school staff. Whether you can make it to the march or not, leave a quick note of support here!
At the same time, NC teachers and advocates recognize that standing up for a long-term fix will cause short term hardships including: school closures for those who rely on the school day for healthy meals and child care during the work day.
This is where the community comes in and where we band together.
Local coalitions including teachers, parents, the faith community, neighborhood groups, and more are mobilizing to help fill the gaps caused by the school closures. We do this to support the teachers and their efforts and to help fill in the gaps for families.
We will use this blog post to gather, share, and update child care and food support resources by school district. While not a comprehensive list, we hope this can serve as a starting point. Listing here does not constitute an endorsement of any particular service but rather items are being shared for informational purposes only.
If you know of additional resources, please send them to Beth@momsrising.org. We will update as needed.
CARY
The town of Cary is offering Day Camp Options for Wednesday, May 1. For full details visit: https://www.townofcary.org/recreation-enjoyment/programs-classes
CHAPEL HILL-CARRBORO:
School nutrition from Chapel Hill-Carrboro Schools:
Please join us on the CHCCS Teacher Workday on Wednesday, May 1, 2019 for some food and fun!  Anyone between the ages of 0-18 may participate. Enjoy a picnic outside . . . just follow the balloons!
CHCCS is hosting lunch at one school and three open community sites:
Northside Elementary (350 Caldwell Street in Chapel Hill) - lunch served 11 a.m. to 12:30 p.m.; please check in at the school's office then come down to the café;
Ridgefield Community Center (301 S. Estes Drive in Chapel Hill) - lunch served 11:30 a.m. to 12:30 p.m.;
Dobbins Hill Playground/Community Center (1749 Dobbins Drive in Chapel Hill) - lunch served 11:30 a.m. to 12:30 p.m.; and
Airport Gardens Playground (815 MLK, Jr. Blvd. in Chapel Hill) - lunch served 11:30 a.m. to 12:30 p.m
The lunch menu at all sites is chicken nuggets, fresh baby carrots, bags of chips, apples, assorted juices and milk.  See you there!
For questions, contact Liz Cartano, director of child nutrition, at 919-9676-8211, ext. 28219 or lcartano@chccs.k12.nc.us
CUMBERLAND:
Prime Time all-day care will be available on May 1 at the all-day care site locations for Cumberland County. Parents can call (910) 678-2451 to reserve a child's place. Parents will need to provide lunch and a beverage for their child. Parents registering after Monday, April 29, will also need to bring two snacks and two beverages in addition to their child's lunch.
DURHAM:
School nutrition from Durham Public Schools:
School-provided meals: Durham Public Schools will be able to provide meal services on May 1 through an extension of our summer feeding program at the following 13 schools:
·     Bethesda Elementary
·     Club Blvd. Elementary
·     Eastway Elementary
·     Eno Valley Elementary
·     Githens Middle
·     Glenn Elementary
·     R.N. Harris Elementary
·     Hillandale Elementary
·     Lakewood Montessori Middle
·     Sandy Ridge Elementary
·     Shepard Elementary
·     Southwest Elementary
·     Southern School of Energy and Sustainability
School Nutrition Services staff members will be on-site at these locations to prepare and serve meals in the cafeterias. All meals will be free for all students.
Breakfast will be served from 7:30 a.m. to 9:30 a.m.: muffin, Nutri-Grain bar, fruit juice, and milk.
Lunch will be served from 11 a.m. to 1 p.m.: turkey and cheese or ham and cheese sandwich, chips, fruit juice, fruit cup, baby carrots, Rice Krispie treat, and milk.
Community organizations that wish to assist with student meals may contact James Keaten, director for school nutrition services, at james.keaten@dpsnc.net.
Kids Voting will be holding an event for Durham Housing Authority families with children from families in the Durham Housing Authority communities at Durham Parks and Recreation's Weaver St. Center from 2-4 PM In addition to Kids Voting activities, YouCanVote will have a table with registration/pre-registration opportunity & voter ID, and 4-H may have an activity station.
MECKLENBURG:
Mecklenburg County now aims to help with those child care concerns by offering supervision through its Park and Recreation department. It will extend activities for children for a longer period of time that day, as it does on other school holidays.
The aim is for a budget-friendly option for kids May 1. Organizers say a day of supervision and activities will cost $10-25, depending on which recreation center the child will visit. There are 20 centers across Mecklenburg County. A couple centers have filled, organizers say, with a possibility for a surge in signups. Find out more here.
Flour Power Cooking School is offering a day camp. Registration available here.
Children's Theater of Charlotte is also offering a day camp with registration available here.
NEW HANOVER:
The New Hanover County Schools announced three schools will open to serve students lunch May 1. Students 18 years old and younger can get free lunch at:
Williston Middle School, 401 South 10th Street

Wrightsboro Elementary School,  2716 Castle Hayne Road

Mary C. Williams Elementary School,  801 Silver Lake Road
Hours of operation are 11:30 a.m.-12:30 p.m.
WAKE:
The YMCA of the Triangle is offering childcare for May 1 for $25 at several locations in the area. Go to https://bit.ly/2VhuEtx for more information, including a list of sites.
The Raleigh Parks, Recreation and Cultural Resources Department is offering childcare programs on May 1 at five sites. They're charging $30 to Raleigh residents and $45 for non-city residents. Slots are still available. Go to https://bit.ly/2KMgNDd for more information.
WE WILL CONTINUE TO UPDATE THESE RESOURCES AS NEW INFORMATION COMES IN. IF YOU KNOW OF RESOURCES AVAILABLE FOR ANY OF THE 18 SCHOOL DISTRICTS THAT ARE CLOSING, PLEASE EMAIL BETH@MOMSRISING.ORG