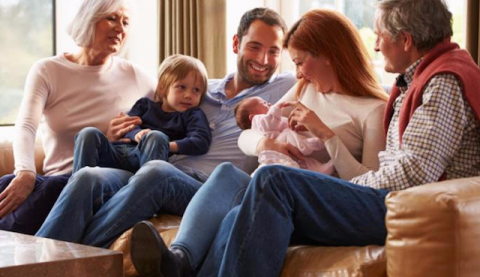 Massachusetts, ask your state legislators to co-sponsor paid family leave!
I don't know about you, but I am feeling energized after last weekend's historic Women's March. From DC to Greenfield to Boston, millions came together to stand up for women and families.
The march was inspiring, but it was also a starting line, not a finish line. We have to keep the momentum moving forward and right now we have a chance to do that in the Bay State by urging our state legislators to co-sponsor and pass important paid family and medical leave legislation.
State legislators are back at the capitol in Boston for the beginning of the legislative sessions which means now is the perfect time to urge them to take action on paid leave! Sign here to ask your state legislator to co-sponsor paid family leave.
Here's the scoop: Last year we got really close to winning paid family and medical leave in Massachusetts, but we didn't cross the finish line.
2017 could be our year, but we can't take anything for granted and I need your help! I am working closely with the Massachusetts Paid Family Leave Coalition to ensure that working families should not have to choose between a paycheck and taking care of a newborn or a spouse battling cancer!
Can you believe that only 13% of workers--and only 5% of low-wage of workers-- in the United States have access to paid leave through their employers?[1] Many families end up cobbling together vacation time and sick days and then cross their fingers that nothing goes wrong.
Heather, a MomsRising member from Cambridge knows the struggle all too well:
"At the time of my son's birth, I was working for a company that offered no paid parental leave. I was eligible for FMLA-protected family leave, but could not afford unpaid time off. My only options for continuing to get paid while I was out on leave were cobbling together short term disability leave (at 70% pay), paid time off (PTO), and paid holidays."
Let's not let Heather face this situation again. Bill SD. 1768, An Act Establishing Paid Family and Medical Leave, will allow Massachusetts workers to take job-protected leave and provide wage replacement after the arrival of new child or to provide care to an ill family member or to recover from their serious health condition.[2] It's common sense legislation for Commonwealth families.
Urge your legislator stand up for Massachusetts families and co-sponsor paid family and medical leave.
It is time to make paid leave a reality for Massachusetts families. Whether it's to care for a newborn you swear already smiles, a mom who is ill, or a spouse battling cancer, being there for family is what matters. You shouldn't have to give up a paycheck to do it.
Do you have an experience with (or without) paid family leave to care for a newborn or a seriously ill family member? Please share your story here. 
[1] Paid Family and Medical Leave: An Overview, National Partnership
[2] Bill SD. 1768 An Act Establishing a Family and Medical Leave Insurance Program, Massachusetts Legislature