Maryland Celebrates BPA Bill...But We've Still Got A Ways To Go!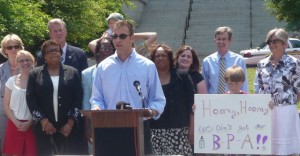 In Annapolis this morning, a coalition of children's health and environmental advocates gathered to honor Senator Brian Frosh and Delegate James Hubbard for their leadership on the state's successful BPA Bill.
MomsRising was joined by Maryland PIRG, Maryland Nurses Association, and and Black Nurses Association to present the Children's Health Advocate of the Year award to Sen. Frosh (D-16, Bethesda) and Del. Hubbard (D-23A, Prince George's County) for their leadership eliminating Bisphenol-A (BPA) from children's products in Maryland. Other partners in this group effort included Environmental Working Group the Maryland PTA and many more.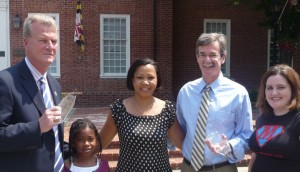 After the celebration, talk quickly turned to next steps. After all, toxic BPA is still in food containers, can linings, and even receipt paper. At MomsRising, we have been working on the federal level address BPA in the Food Safety Bill. But of course, BPA is only the tip of the iceberg. All the advocates and legislators I spoke with today agree: What we really need is comprehensive chemical policy reform.
That's why MomsRising joined the Safer Chemicals, Healthy Families Campaign. We're working to update the 34-year old law known as TSCA so chemicals are proven safe before they go on the market, and into the bodies of our children.