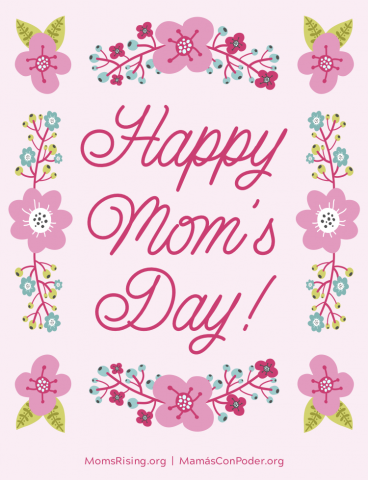 Love, Power, Mother's Day!
Mother's Day is this Sunday! Honor or remember a mom you love by sending a gift that stands up every day for women, moms and families.
We'll announce your generosity with one of six beautiful e-card options of your choice (see below!).
AND, if you donate by TONIGHT, we'll post your personal dedication message in a Facebook album we'll be sharing this Sunday, on Mother's Day.
Don't wait! Dedicate a MomsRising Mother's Day donation to a mom you love.
Thank you for standing up and speaking out with MomsRising for a brighter future for all moms, children, and families.
Happy Mother's Day!
With love,
- Kristin
P.S. Want to make a regular Mother's Day donation instead? Click here to generate more mom power with a gift to MomsRising Together.