Adoption Awareness Month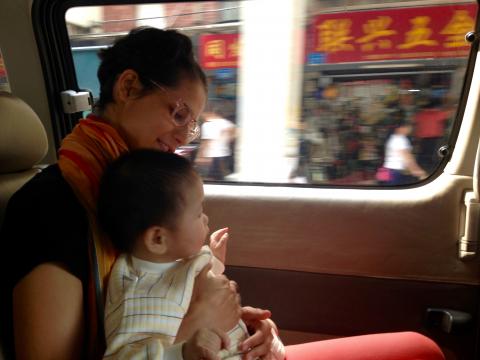 Love, loss and paid family leave: One adoption story
Like every parent, I will never forget the day we brought our daughter home for the first time. It was an unseasonably warm spring day and, after dumping the luggage from our weeks abroad, we headed straight for the yard. As I set our 17-month-old in the grass, I felt a momentary a rush of relief – relief to be home, to be back in the familiar. It was her first time feeling grass on her skin, and that moment of relief proved to be just that – but a moment. In the next instant, our toddler began to scream in terror and the gravity of becoming adoptive parents came crashing down on us.
More than three years have passed since that day and our now four-year-old is a big fan of grass and all things outdoors. During those all too short years, few days have gone by that I haven't been grateful for the paid family leave that enabled me to stay home with our daughter during her first few months with our family.
Approximately 100,000 non-related children are adopted to U.S. families each year . A significant proportion of these children have special needs, including chronic health issues, and many have shorter-term, immediate health needs. Our daughter falls into all of those categories. During her first months home, we were visiting specialists multiple times a week, sorting out what required short-term vs. longer-term vs. urgent care. Attending all those medical appointments, which were necessary for her well-being, wouldn't have been possible without paid family leave.
While her health condition will need regular and ongoing care, it is her emotional needs that have required much more of our parental attention.  Adopted children often experience significant traumas in their short lives. Perhaps the most significant trauma of adoption is loss.
For my daughter, there was loss of culture - loss of an entire country, in fact. And while my baby searched for solace in the unfamiliar faces, sounds and tastes of a land not her own, I found myself in an odd and painful position – the duplicitous role of serving as both soother and facilitator of her trauma.
I could not directly identify with the profound loss heaped upon my daughter, yet it stirred a deep loss within me - the traumas of my immigrant father and his immigrant father. All at once, I found myself caught in the middle. Caught between the generational losses of my elders and the losses of my daughter, including those forced upon her by my own hand. 
Fortunately, children prove incredibly resilient, but it takes time to adjust to so many life difficult life transitions. And so, in those early days, we both needed time to mend. Time to mend our hearts just enough so we could face the myriad transitions before us, together - her as my daughter and I as her mother. Paid family leave gave us that time and made the first precarious steps toward healing possible.
Healthy attachment is critical for all young children, but it is all the more important for a child who has suffered trauma, including loss of a parent or primary caregiver. With paid family leave, I was able to take several months away from work to tend to our daughter's needs as she adjusted to a completely new life. I was able to get to know her personality, understand her emotions and introduce her to just about every new thing in her surroundings. Without this time, our daughter would have likely suffered additional traumas – delaying her attachment and development and possibly even increasing her health risks.
At the time, we were one of the lucky few with access to paid family leave. But soon paid leave will be a reality for all of Washington's working families. Beginning January 2020, adoptive and foster families statewide will have access to up to 12 weeks of paid family and medical leave, thanks to a new law championed by parent advocates. In just a few months – beginning January 2019 – workers will begin contributing an average of $2 per paycheck to a statewide insurance pool. The fund will cover not just family leave, but also up to 12 weeks of medical leave for a serious health condition, or a combination of family and medical leave for up to 16 weeks in a year.
I now know that it wouldn't be possible for us to welcome another child into our family without paid family leave. Every child deserves the same opportunity for nurturing transition into family life – including adopted and fostered children. Paid family leave makes that possible.