VICTORY!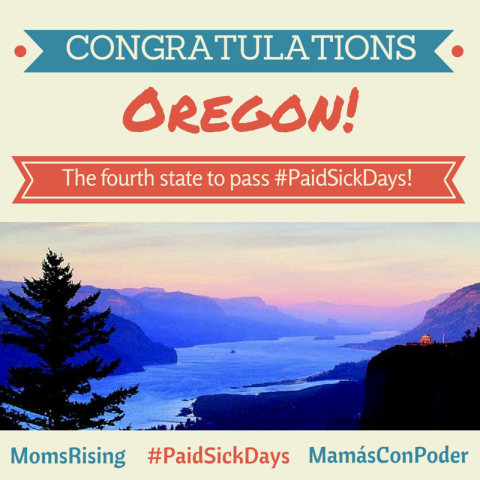 Let's Celebrate the Paid Sick Days VICTORY in Oregon!
CONGRATULATIONS and thank you! Last Friday, the Oregon legislature —your legislature — said YES to paid sick days and passed a state-wide paid sick days bill! The bill is on it's way to Gov. Brown's desk and she has said she will sign it into law!
Join in the celebration of this incredible victory by sharing this graphic on social media!
MomsRising members like you have pushed for passage of paid sick days over the past weeks, months, and years in Oregon — sending tens of thousands of letters to Oregon legislators, sharing stories highlighting the need for paid sick days, and making calls and visits to legislators' offices, and more.
All that work has paid off! Oregon is now the fourth state in the United States to enact a paid sick days law.
This victory means that the approximately half a million Oregonians who until last Friday could not miss work to see a doctor, care for a sick child, or recover from the flu at home (where they belong), can now do so without fear of being fired. And for most, that time will also be paid, so they won't lose essential pay when they have to miss work to care for their own or a family member's health.
A standing ovation is truly in order! Congratulations to you, to the aptly named Everybody Benefits Coalition led by Family Forward Oregon, the Oregon state legislature, and all working families in the Beaver state!
Don't forget to share the incredible news with your friends and family — and help celebrate this victory for Oregon's families and economy! Simply click the buttons below.
Together, we are a powerful force for women and families in Oregon.