Tweetchat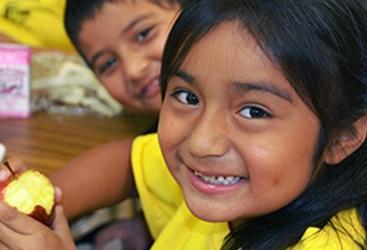 Let's Celebrate #SummerMeals at #FoodFri!
The summer season has started. Children are excited to be out and about, enjoying friends and sunshine. Yet, for some children summer is not a happy time. For some children, summer brings hunger.
During the school year children are offered two meals a day: breakfast and lunch. They may also receive after school snacks. Without this lifeline, some families cannot afford to feed their children. This is where Summer Meals steps in.
Join #FoodFri on June 16, 2017 to learn more about the Summer Meals program! We'll be joined by @FRACtweets and the @YMCA as we share why summer nutrition is so important.
Feel free to invite a friend (or two!) by clicking on any of the social icons on this page or by clicking on the image or link below.
Tweet: Let's celebrate #summermeals! Join @MomsRising @fractweets @YMCA for #FoodFri to chat importance of summer nutrition https://ctt.ec/R680a+
---
To join and follow the conversation on Twitter use the #FoodFri Hashtag in each tweet.
You can also follow the chat on Twubs.com/FoodFri. Twubs allows you to follow MomsRising's registered hashtags by creating an account. Below I have noted the steps.
Create an account using an email or your Twitter account.
Enter the desired hashtag, #FoodFri, #WellnessWed or #EcoTipTue, in
the search box found at the top of the page. Click Enter. A new page
will open with the desired chat.
Find the "Join This Twub" button found on the right-hand side bar and join the group.
Adjust the speed of the conversation to your liking. Options are: Fast, Medium, Slow, Slower, or Slowest.
Introduce yourself and join the conversation, by entering your
comment, tips, or questions in the "Tweet to #FoodFri as [YourName] box"
Or, respond to a specific tweet by hovering over the right-hand side of the individual's tweet and selecting one of the icons.
---
More about our #FoodFri Featured Co-Host(s):
FRAC, @fractweets
The Food Research and Action Center (FRAC) is the leading national nonprofit organization working to improve public policies and public-private partnerships to eradicate hunger and undernutrition in the United States. FRAC works with hundreds of national, state and local nonprofit organizations, public agencies, corporations and labor organizations to address hunger, food insecurity and their root cause, poverty.
To learn more about FRAC, head on over to their website, frac.org. You can also follow FRAC on Twitter and Facebook.