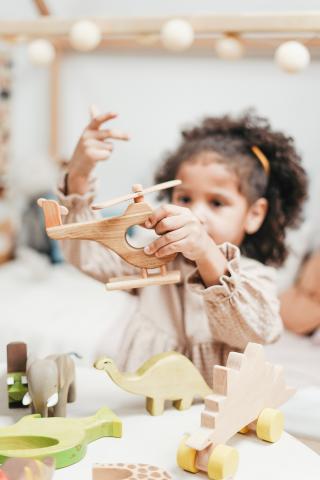 Let Them Play - Why Play-Based Learning During COVID-19 Works
In a past professional iteration, I was an international educator. I taught stateside and abroad from PreK-university (business graduate school in fact), and had students from virtually every continent.
My educator journey was a charted blend of two parts exploration and experimentation, three parts building on prior knowledge, a huge dash of being open to where and how I could be of best service. Each position from class teacher to program director was approached with curiosity, intention, and open-mindedness that often looked like play. Yes, play - joyful, self-directed, interactive, collaborative, reflective work.
Play has always been regarded as an important vehicle for learning by early childhood education programs. Today, the value of this play is becoming more prevalent in the primary education system. Yet, when I heard a COVID-19 made homeschooler "pooh-pooh" the merits of educational play, I realized that we need to reassess the definition of play and build homeschooling programs, be they temporary or long-term that incorporate play as a means of achieving more effective learning.
The COVID-19 transition to home-learning was clearly not one planned. As schools quickly determined closure was a necessary next step, home and distance learning opportunities for students were patched together with a hope to maintain continuity. Yet, in some communities, school closure may last through the term and parents and educators will need to innovate home learning.
It is a proven fact that when children are left to their own devices (not their laptops and phones!) in an open and tolerant atmosphere where they are free to make their own choices, they learn better.
 
What is 'play'?
Though there isn't a set definition, 'play' has several typical characteristics:
It is pleasurable
It contains symbolic elements, like then they pretend play
Needs active participation
It is voluntary, where children are free to choose
It is process-oriented, players enjoy the process rather than the goal
It is Self-motivating
What is play-based learning?
Play-based learning is based on the natural desire of a child to engage in activities in accordance with his interests, skills, and strengths. The motivation to learn and develop a positive attitude towards learning is higher when the child initiates the play instead of following a teacher's commands.
While the educator is not actively involved in leading the child in a play-based learning environment, her role nevertheless is very essential. They extend support to the children involved in their play through:
Conversations that expand children's thinking
Creative a balance between the child-initiated and educator supported curriculum of learning
Creativity and inquiry practice that are intrinsically linked
Building up the appropriate environment that initiates and supports learning
Parent-educators must also be quick to recognize teachable moments and utilize strategies like demonstrations and shared thinking to utilize those.
Why is it important?
Play helps in shaping the structure design of the brain. When children are engaged in play, the active exploration involved helps in building and strengthening the neural pathways in the brain. Play enhances the brain's flexibility and facilitates future learning with a higher potential.
Children who indulge in play learn to explore, identify patterns (social-emotional and academic), take risks, negotiate and understand concepts and specific content better. Their memory skills develop much better along with their language skills. In the long term, they are more adaptive towards an unstructured learning environment (think, project-based learning, STEM and even internships) as well as structured academic settings (think university, law or med school).
Why does it work?
First of all, it's 'play'.
Children are naturally drawn towards activities that do not indicate explicit learning. So while a child may not be interested in the blackboard or a book filled with words, he will play for hours with the alphabet blocks he finds. The magic occurs when parents/educators help the child make connections between say, building blocks and building words; or at the very least, suggest that connections can be made.
Children are full of intrigue. Given a safe environment to explore, they find their way and learn their lessons without much interference from adults. Children are natural iterators and problem-solvers. And for those older children who are working towards developing these attitudes and skills, age-appropriate "play-time" can offer opportunities for this maturation to occur.
Play-based learning builds on holistic best practices and differentiation - a.k.a. personalization. Experiencing helps in longer retention, so if your child is struggling to recall specific information, consider varying how the material is being presented and assessed. This requires you to adopt an open-minded and experimental approach as well.
Play-based learning works as it enhances the child's sense of well-being and gives them a strong foundation to construct their own meaning and be responsible for their learning. All work and no play makes for a less evolved learner. This is perhaps one of the biggest lessons our global stay-at-home has taught us.
Let's not forget.