Leaning on Each Other to Lead: Parents have the skills and talents to create meaningful change together
Last November I uploaded my ebook, Lean On and Lead, Mothering and Work in the 21st Century Economy, to the iBooks Store.  In addition to the next-gen interactivity within the book, Apple allows authors to update publications, with readers automatically receiving free updates.  So I designed a new cover (with the help of my artistic teenage son), cleaned up commas and clunky phrases, spruced up graphics, re-worked widgets, and added content.  My 1.1 update went "live" yesterday.
Lean On and Lead 1.0 already had twenty-four compelling interviews with working mothers and fathers that demonstrated why policy-makers should care about how families actually function in the real world.  Their stories provided examples of the ways in which our economy and society are not taking full advantage of women's talents, expertise, and education, and also described the complex set of supports that parents, and in particular women, lean on in order to lead.  Lean on and Lead 1.1 adds to this conversation and provides a new layer of interaction to the project.
For example, in the midst of editing last month, I read a Business Insider article by Sabrina Parsons, CEO of Palo Alto Software, in which she talked about the importance of changing workplace cultures to accommodate parents. I contacted Parsons for an interview, and she told me the story of how she decided to bring her babies to work and how as CEO, she supports other moms (and dads) doing the same and finding other flexible solutions for integrating family with work.  Around the same time, I also learned about how Hawaii State Senator Jill Tokuda had brought her newborn to the senate floor, and I had the good fortune to include an audio interview with her in a widget (including photos of her and her babies at work) that I added to the Parsons interview in my Lean On and Lead update.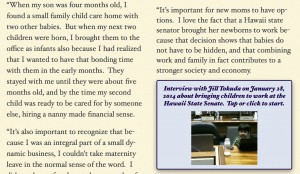 Other updates that I added included a video and narrative about a mother/daughter event that several of the ebook's interviewees attended, one of whom was Hawaii congresswoman Colleen Hanabusa.  I was also able to include a video about a smart phone app that another interviewee has been developing with other parents so that they can connect with their children and child care providers while they're at work.
And finally, I added a link to bills that are currently being considered by the Hawaii State Legislature related to families and children, demonstrating the connection between parenting and the state economy, and providing readers with an immediate instrument for direct action.  This link is part of Lieutenant Governor Shan Tsutstui's interview.  He is a father to three daughters -- and the first lieutenant governor in Hawaii to request a "neighbor island" LG office (on Maui) so that he could be closer to his family.  (I like his story because it demonstrates how both dads and moms need to push for family-friendly policies in order to change the work culture for parents.)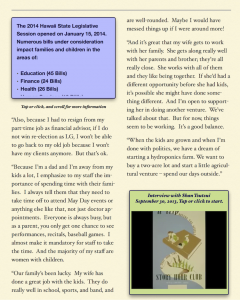 By adding Parsons' and Tokuda's interviews to Tsutsui's in the update, Lean On and Lead was able to present more examples of how flexibility can support highly-engaged workers who have children, and how Lean On and Lead itself can support changes in the workplace.  Adding this content has provided a mechanism for collaboration among both the interviewees and the reader – which I'm hoping will provide a path for specific direct actions.
In fact, my hope is that readers and interviewees will actively work together to develop options and alternatives. 
For example, what if business leaders, legislators, and parents who are both in Lean On and Lead, and who read it, collaborate on legislation that supports business owners who provide flexible policies?  Some of Lean On and Lead's interviewees work with young women who are interested in STEM fields.  What if these young women were included in this collaborative process, and at the same time began preparing for the future they are about to face as females and mothers in tech fields? What if those in the ebook with a VC or business background provide technical expertise to help ensure that the innovative projects that are collaborated on are fundable and marketable? And what if the interviewees in Lean On and Lead who have a diversity of experiences, whether related to income, child care, education, or health issues, bring their real-world perspectives to the table?
The people I interviewed in Lean On and Lead are real women and men who are influential and knowledgeable in a variety of spheres.  They represent varied professions, social classes, and personal situations, yet they have certain core experiences in common -- because they care very much about their work and want to be fully engaged with their families.
Lean On and Lead's multi-media interviews provide robust and nuanced information that I believe is critical to engaging in truly meaningful dialogue. Yet the most important resources in the ebook are the interviewees and readers themselves -- who have the skills and talent to implement the changes needed to provide real support to families.  My hope is that with the help of Lean On and Lead, we will lean on each other and create the change we need to see.