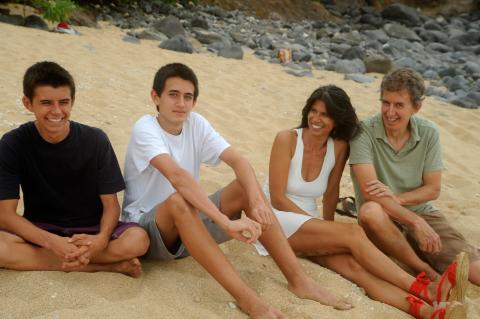 Leading by Leaning On Each Other
I grew up in San Francisco in the 70s, and after college, began working at nonprofits in Los Angeles. I moved to Maui when I was 29 and immediately learned to appreciate life in a small community.  It felt easier to make an impact, and within two years, I had worked on the mayoral campaign of a 26-year-old candidate and had been named a "Catalyst for Change" by the local paper for registering new voters.
Two years later, I was married and pregnant, and my husband Ian was running for State Senate.  Because we had no idea what parenting really entailed, we thought that since the legislature was only in session for four months out of the year, senator was the perfect job for a new dad.  Had Ian won the election, I would have been alone with a newborn while he served in the legislature on a different island. Thankfully, he lost! And for the next seventeen years, we were able to work at home, with both of us spending time with our two sons, while earning enough to support them. We were even able to continue to engage with our community (though not at the levels we had planned on pre-kids).
In some ways, a small community in the middle of the Pacific Ocean is very amenable to simple living.  There are a limited number of jobs, and most are not high-powered corporate positions.  Since having kids, I've worked as an independent nonprofit grant writer and a children's bookstore owner, and Ian has worked on various socially responsible projects.  Working independently has allowed us the flexibility to engage with our children more than some parents, but our ability to "be there" for them would not have been possible without a great deal of family support and a low financial overhead.
A little over a year ago, my husband and I both worked for a group that was advocating for child care providers in California.  One of my tasks was to interview parents about how they balanced work and child care, and I was surprised by how the stories affected me.  Though my sons are now teenagers, the challenges of reconciling work and parenting still felt painfully recent.  The stress of finding providers, figuring out child care swaps with other moms, and working late at night to make up for missed work during the day feel like yesterday.
I was also surprised by how important telling their stories was to the parents I interviewed, primarily the mothers. They were lawyers, medical professionals, venture capitalists, students, and teachers, often with demanding work schedules.  Though they had followed diverse career and life paths, they were all very willing to be interviewed, and were also eager to hear each other's stories.
It became clear to me that common challenges of integrating work and family are faced by all families, regardless of income or resources.  And though the root causes of these day-to-day difficulties are structural, families often address them alone.  At the same time, the impacts of lost work, stalled careers, and reduced time with children on the economy and our society are enormous.
Women have been outpacing men in education for the last twenty years, and women and parents are key to a successful 21st century innovation economy, yet US policies and work cultures do not support working mothers and fathers.  As one movie studio executive expressed it: 
"The work/family balance is such a norm that we just all live our daily lives basically doing 'work-arounds' in order to survive and function, when really we should be changing the status quo to meet OUR needs."
I am hopeful that by presenting candid interviews with a diversity of parents, combined with deep diving up-to-the-minute data, Lean On and Lead will demonstrate that raising families and participation in a thriving economy are inextricably linked, and that a robust innovation economy will be built upon women's successful participation in the workforce.  Further, because Lean On and Lead is presented in the interactive iBooks medium, I hope to provide a new platform for immediate collaboration, action, and change.  If these issues resonate with you, I hope you'll join me.
This blog originally appeared on May 20, 2014, as part of the Religious Action Center's blog series "Double Booked: A Conversation about Working Families in the 21st Century." Double Booked deals with the many issues that affect working families, and features everything from personal stories to policy analysis. Visit the Double Booked portal to read more posts and subscribe for updates, or join the conversation on Twitter and Facebook with the hashtag #doublebooked.