It's Labor Day!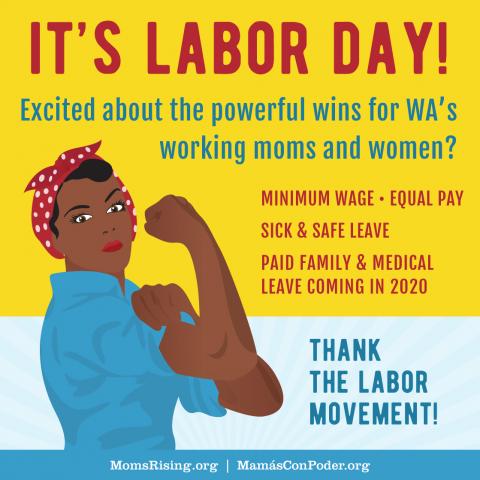 Labor of Love: Thanking the Labor Movement for MOMumental victories
What do you think of when you think of Labor Day? Burgers, sunshine, and family? What about women's rights, paid leave, and equal pay? No? You should.
From a strong minimum wage to paid family and medical leave, Washington's labor movement has been MOMumental in a slew of powerful wins for women and families.
Washington State ranks as the third most unionized state in the nation -- and that's not on accident. Washington unions have worked tirelessly alongside community partners to protect employees' rights to organize and unionize, even as many states have taken strong actions to weaken organized labor.
Unions help working class and middle class families stay afloat in an upside-down economy that's booming for millionaires and billionaires while leaving working families behind. In fact, strong unions lift us all. Washington's labor movement has championed some of the biggest wins for women and families in the past few years: a stronger minimum wage, paid sick leave, strong early learning programs, paid family and medical leave, and the first update to the state's equal pay laws since World War II. Our partners in organized labor are also working to pass laws protecting farm workers, domestic workers, immigrant workers, and more.
In fact, Oxfam America just ranked Washington State as the number one state to work in the nation, specifically citing strong unions and workplace laws:
"[The study] gave high marks to Washington state for not having a so-called right-to-work law similar to those that have weakened unions in other states. The study also noted that Washington has rules to ensure equal pay, accommodations for pregnant workers, and sexual harassment protections, as well as laws that prohibit pay secrecy in the workplace."
As we build MOMentum for women's rights in Washington State, we are fortunate to have a powerful labor movement that works hand-in-hand with community to fight for social, economic, racial, and gender justice. Today, join MomsRising in thanking the labor movement by sharing on social media why strong unions are important to you.
Can you do one more thing? This Labor Day, teachers across the state need our help right now as they advocate for a fair contract. Learn more about what local teachers are fighting for in your community and how you can support them here.
From all of us at MomsRising, thank you to the labor movement for all that you do!