Book club!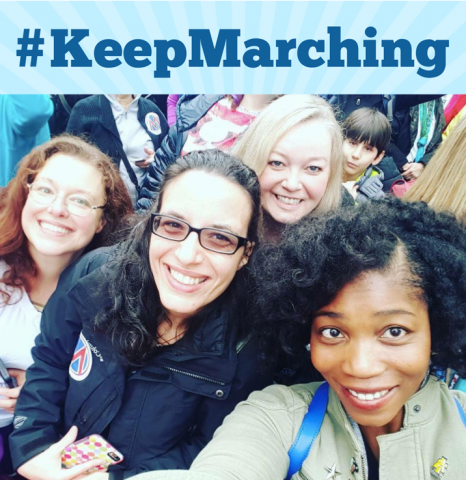 #KeepMarching Book Club! Ch.1: Building an Intersectional Movement-- Together
Chapter 1. Waking Up. Each of us brings our individual world of experience, talents, hopes, dreams, and worries to this movement. Similarly, each of us also wears blinders to each other's worlds. In order for the movement to be successful, we must admit that we all wear blinders, open ourselves to learning, and be as transparent as possible in order to lift all women up and win the fight for equality, equity, and justice.
Make no mistake: Gender justice is economic justice is racial justice. One doesn't happen without the others. It's time for all of us to stand together with each other and for each other's rights in a new kind of women's movement. When we speak about women's issues, we must speak to issues that impact every woman-- not just the issues that impact able-bodied, middle-class, cis, and straight white women.
"It's the old thing of I'm not free until my sister is free," 
says Sarah Sophie Flicker of the Women's March. "Our role is to show up for each other and protect each other. We are kept separate to keep us all down. When we don't show up for each other and don't acknowledge each other, and when my privilege pushes down my sisters, we can't win. We can't win until we all show up for each other."
Here are some quotes from Chapter 1 in tweetable form, to give you an overview of what's covered:
"In this house we believe #BlackLivesMatter, no human is illegal, love is love, women's rights are human rights, science is real, water is life, & injustice anywhere is a threat to justice everywhere." In this book, that's the belief, too. #KeepMarching https://action.momsrising.org/signup/keep_marching_book/
"As women, we're mosaics of many different experiences, perspectives, & backgrounds. As such, the priorities of a movement must reflect all that is our lives, our contributions, the barriers we face & the paths we need to take to break those barriers down" https://action.momsrising.org/signup/keep_marching_book/

 
Next up in our #KeepMarching blog series: Tips and tweets from Chapter 2: The Benjamins! I'll be sharing facts about the gender and race-based wage gap, busting myths and building the case for equal pay for equal work. See you there! (And if you'd like to check out the introduction to this series, it's right here.)
P.S. Need a copy of Keep Marching? You can pick one up right here-- 100% of the author proceeds support MomsRising, so it's like a donation and book in one!