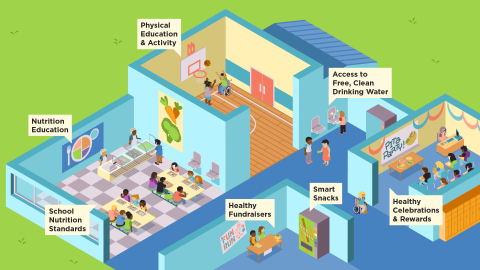 Kansas City, MO: New School District Wellness Policy Aims to Create a Culture of Health at School
From Voices For Healthy Kids, a joint intiative of the American Heart Association and Robert Wood Johnson Foundation, working to make each day healthier for all children.
Within Kansas City, MO, a baby born in one neighborhood had a life expectancy 15 years shorter than a child born just a few miles away.
To Seft Hunter, executive director of Communities Creating Opportunity (CCO), the shocking life span gap demanded action.
CCO, a driving force for social justice and health in Kansas City and a Voices for Healthy Kids grantee, responded to the challenge in many ways. That comprehensive approach to improving health, particularly in neighborhoods that historically have lacked access to financial investment and opportunities, helped Kansas City win a 2015 Robert Wood Johnson Foundation Culture of Health Prize.
In 2017, CCO began focusing on school as an environment for supporting kids' health. The group partnered with local education officials, parents, and other advocacy organizations to craft a district-wide wellness policy that expands opportunities for healthy eating and physical activity throughout the school day.
The new policy, approved by the Kansas City Public Schools Board of Education in December 2018, will help expand healthy opportunities for all children, Hunter says. That, he adds, is essential for improving health equity across the city.
Hunter notes that nearly one in three Kansas City children is at an unhealthy weight, which increases their lifetime risk for developing chronic conditions such as diabetes and heart disease. Many of these kids live in areas that don't have fresh-produce grocery stores. Yet many of them also participate in school meal programs—in Jackson County, Kansas City's home county, 60 percent of children are eligible for free or reduced-price school lunches.
Improving the food environment at school just made sense, Hunter says. 
But that required more than simply getting rid of junk food from vending machines, he adds.  It meant creating an organizational culture that promotes health.
"We wanted to engage folks across the school spectrum to talk about our shared values and our highest aspirations for a school culture that supports healthy food access," Hunter says.
CCO partnered with other advocacy and faith-based groups, parents, and several school board members.  Together, they approached school district leaders with the idea of developing a district-wide wellness policy.  Although school district leaders were receptive, they had little time to devote to working on a policy because they were going through re-accreditation at the time.
CCO and its partners stepped in to provide technical assistance, working with the district's nutrition director. "We provided the added muscle to help get this project moving," Hunter says.
Together, they examined existing wellness policies within the district.  Although no single overarching policy existed, individual schools had their own wellness efforts. CCO and its partners worked to ensure that the policy they developed complemented those efforts.
Their goal was to create a comprehensive policy that expanded access to healthy foods and opportunities for physical activity at school. Under the new policy:
All

students have access to healthy foods throughout the school day—both through reimbursable school meals and other foods available at school—in accordance with federal and state nutrition standards.

All students receive quality nutrition education that helps them develop healthy eating habits.

Students have opportunities to be physically active before, during, and after school;

School staff are encouraged to adopt healthy eating and physical activity habits in and outside school.

The community is engaged in helping to create a healthy school culture.

A new district wellness committee will oversee implementation of the policy and monitor progress.  (Each school already has its own wellness committee.)
How will the new policy change what school looks like to kids?  Hunter offers these examples:
Increased access to healthy foods, including breakfast foods, in classrooms

Greater availability of water in classrooms

Classroom "taste tests" so that kids can experiment with foods like Greek yogurt, to see if they like them

"Focus group" events that invite parents to try different foods—ranging from tropical fruits to veggie wheat lasagna—with their kids and learn more about them.
The fact that kids spend so much of their most productive time at school "opens up possibilities for partnering with teachers, school officials, faith-based groups, and others to think about how we can make that environment healthier," Hunter says. "And creating a healthier school environment that helps kids develop healthy habits is a goal worth investing in."
Help Inspire Change in Your Community
To learn more about this issue and how you can help mobilize a similar campaign in your community, visit our School Wellness Toolkit. Within our toolkit, you will find helpful information to build out your own advocacy efforts aimed at developing policies that support healthier school environments.