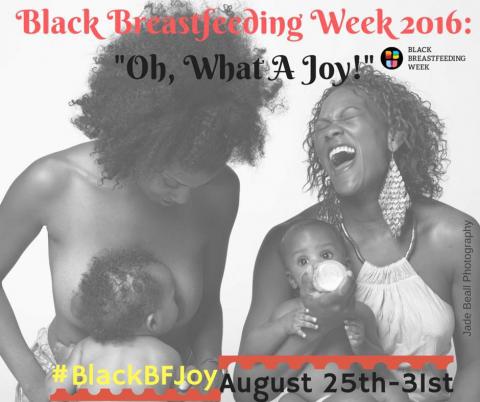 Joy As the Antidote #BBW16
The 4th annual installment of Black Breastfeeding Week is upon us and I think we hit the mark this year. Of course, I'm biased, but a week of celebrating the healing, restorative and fun nature of joy feels like the antidote to a year of intense political happenings and turbulent social times. This year, we are dedicating the 7 days of Black Breastfeeding Week to the soul-soothing balm of proud smiles, deep laughter and good latches.
I am not alone in sensing the timeliness of this year's theme, "Oh, What A Joy." A groundswell of people across the country have risen, putting their bodies at the forefront of our movement. When you take a look at the #BBW16 calendar or Facebook event page, you will be taken by how organizers in 30+ cities and counting are investing their time and livelihoods this year with creativity and zeal.
This year, organizers of events are spreading the good news about breastfeeding in Black communities as a way forward to strong bonds and healthful family practices. This includes events like the Black Breastfeeding Wellness Expo in Tyler, Texas and the BOOB OUT, Cook out! happening in Richmond, VA, both happening on Friday, August 26th.  It includes the annual Black Mothers Breastfeeding Summit in Detroit, MI on Saturday, August 17th and "It's Only Natural-Breastfeeding 411" in Glenn Dale, MD on Tuesday, August 30th.
All of us can connect and engage with each other through an intersectional #WellnessWed Twitter chat hosted by MomsRising on Wednesday, August 31st and by sharing and contributing to the #BBW16 and #BlackBFJoy hashtags on Facebook, Twitter and Instagram.
To learn more about Black Breastfeeding Week, including the popular question why it exists, visit www.blackbreastfeedingweek.org.