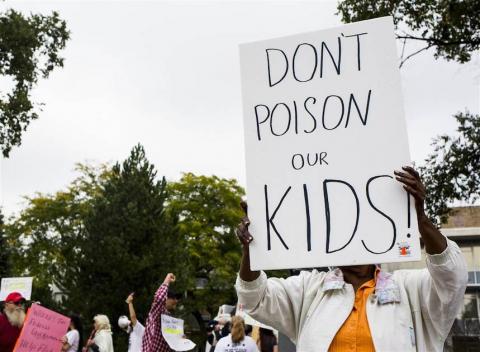 Join us to stand up for the kids of Flint!
It has been well over a year since the Flint water crisis became front page news. In fact, it was all the way back in last January when President Obama and Michigan Governor Snyder (who is partially responsible for the lead poisoning in the first place!) declared a State of Emergency in Flint due to residents' drinking water being poisoned with lead.
So why is the U.S. Congress STILL dragging its feet to pass emergency funding that could help alleviate the multiple problems Flint residents face due to their water being unusable?
**Write your members of Congress NOW and tell them to speak up for the children of Flint and pass emergency funding as soon as they return to Washington, D.C. in November!
Here's what's happening: Back in May, tens of thousands of people wrote to their members of Congress outraged by what was happening in Flint—including many of you. It took a very long time for Congress to pay attention but they finally did! Three weeks ago, as the October 1st deadline to pass federal spending in order to avoid a government shutdown approached, Democrats insisted that an agreement be reached on the Flint funding—clearly they heard our stories and read our letters. It was our hope that this funding would be passed before Congress left D.C. in order to head out on the campaign trail, but sadly that didn't happen. What did happen was an agreement was reached between Republicans and Democrats to include the Flint aid in the Water Resources Development Act (WRDA) when they return after the election.
Now we need to hold Congress to that agreement and make sure they make Flint a priority when they return to D.C. in November!
**Tell your members of Congress: It's time to stand up for the children of Flint! Pass aid to Flint and other communities affected by lead ASAP.
The U.S. Senate-approved bill provides $270 million in funding to assist states with drinking water emergencies (because sadly its not just Flint dealing with lead contamination), subsidize loans for water infrastructure projects, help small and disadvantaged communities (like Flint) comply with drinking water standards, and to help reduce lead exposure among children. The House of Representatives' bill provides less funding at only $170 million in assistance. When Congress returns next month they will need to reach an agreement on the funding level—and move it forward ASAP.
This funding is desperately needed as Flint is still seeing the ongoing affects of their water being contaminated. Reports show that residents are still afraid to use the water, including even to just wash, which has lead to a nasty stomach bug outbreak just this past month. And they have reason to worry—even small traces of lead in a child's body can cause major problems. Children under the age of 6 are especially vulnerable to lead poisoning, which can severely affect mental and physical development leading to a potential lifetime of developmental delays, learning disabilities, and illness. While the funding agreement in Congress would greatly help Flint, Michigan, it would also help communities around the country who are at risk of lead contamination.
Don't forget to take action now. We need to stand up together and hold Congress' feet to the fire. Make sure to sign our letter to Congress today and tell them to pass Flint aid when they get back to D.C. in November!
Please also share this action link on your social media, like Facebook and Twitter, and also feel free to send your friends and family this blog. The more people who sign on, the faster we'll be able to get Congress moving.
Together we are a powerful voice for children and families.