Join us on Mon., 11/23 -- Stand Strong for Inclusive Health Reform (SF)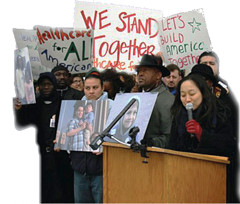 Join us on Mon., 11/23 -- Stand Strong for Inclusive Health Reform (SF)
Communities of color from across California are gathering at the health reform table because we are part of this country. Back in Washington, DC, people like Rep. Joe Wilson represent America's worst. On Monday, November 23, in San Francisco, we will assert ourselves as immigrants because we are America. We are disappointed about how public conversations about who immigrants are have led to the exclusion of immigrants in health reform legislation.
We have been pushing for a repeal of the federal five year waiting period for legal immigrants in low-income programs like Medicaid, as well as passage of health reform that includes all human beings. This is an important moment to strengthen the current proposals and to oppose anti-immigrant amendments and attacks. We have to be united in this struggle and continue to raise our voices. After all, it is about building a healthy and humane America together! We believe that to make health reform affordable for America, we need public access to purchase the public option in the new marketplace. We believe that everyone who subsidizes the health system should be able to participate in it, and make informed health decisions, regardless of their immigration status.
Stand Strong for Inclusive Health Reform
Rally and Vigil
Monday, November 23
4:00 pm PST
Speaker Pelosi's Office
90 7th Street, San Francisco, CA 94103
Immigrants have contributed to the strength and vitality of America and should not be excluded in health reform. We recognize Speaker Pelosi's leadership in ensuring that immigrants are included in the House bill and urge her to continue to stand firm as the debate continues. Health reform is not health reform if some of our loved ones are left out. We want our country standing for justice and fairness. Congress must enact health reform for everyone living and working in America.
Endorsing Organizations: National Korean American Service & Education Consortium (NAKASEC), Korean Resource Center (KRC), Korean American Resource & Cultural Center (KRCC), Asian & Pacific Islander American Health Forum, Asian Health Services, Asian Law Caucus, Asian Pacific American Legal Center, California Immigrant Policy Center, California Partnership, CASA de Maryland, Chinatown Community Development Center, Chinese Progressive Association, Coalition for Humane Immigrant Rights of Los Angeles, Having Our Say, Idaho Community Action Network, Korean Community Center of the East Bay, National Asian American Pacific Islander Mental Health Association, Northwest Federation of Community Organizations, OneAmerica, Pineros y Campesinos Unidos del Noroeste, Rural Organizing Project, Service Employees International Union Local 721, Service Immigrants Rights & Education Network, Southeast Asia Resource Action Center, Washington Community Action Network
Sign our petition to support health reform for all low-income families, workers and children. Online at http://nakasec.org/1684
For more information, contact NAKASEC: Olivia Park | opark@nakasec.org | 323-937-3703
Over the last 15 years, National Korean American Service & Education Consortium (NAKASEC) and affiliates Korean Resource Center (KRC) in Los Angeles and Korean Resource and Cultural Center (KRCC) in Chicago formed a network that forwards a holistic empowerment model combining education, social service, culture, civic engagement, and organizing. Read more at http://nakasec.org/blog.
This post was originally published at Asian Pacific Americans for Progress.