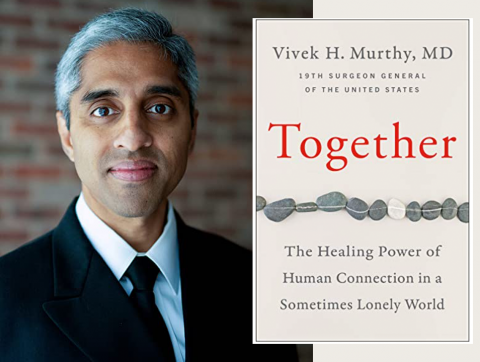 Join the Meeting on COVID-19 and Loneliness
COVID-19 has ushered in an unprecedented era of isolation and loneliness. Dr. Vivek Murthy, MomsRising's favorite U.S. Surgeon General, who served under President Obama, has just released his new book, Together: The Healing Power of Human Connection in the Sometimes Lonely World.
We are honored and excited to tell you that Dr. Murthy has accepted our invitation to join our next #KeepMarching meeting on Tuesday, May 19, 8 pm ET/5 pm PT, to discuss Together. 
Will you join the meeting with former President Obama's U.S. Surgeon General Dr. Murthy, too, to talk about loneliness? Click here to RSVP. 
In Together, Dr. Murthy makes the case for loneliness as a public health concern. As social distancing and shelter-in-place orders deprive people of human connection just as they are beset with enormous worry and pressure, Dr. Murthy's expertise and wisdom could not come at a better time. His book includes inspiring stories and creative solutions for people to help themselves and those they love to build more connected lives, even in these times.
This is from the publisher's description of Together:
"The book we need NOW to avoid a social recession, Murthy's prescient message is about the importance of human connection, the hidden impact of loneliness on our health, and the social power of community.
"Humans are social creatures: In this simple and obvious fact lies both the problem and the solution to the current crisis of loneliness. In his groundbreaking book, the 19th surgeon general of the United States Dr. Vivek Murthy makes a case for loneliness as a public health concern: a root cause and contributor to many of the epidemics sweeping the world today from alcohol and drug addiction to violence to depression and anxiety. Loneliness, he argues, is affecting not only our health, but also how our children experience school, how we perform in the workplace, and the sense of division and polarization in our society."
RSVP now for this powerful online meeting with former U.S. Surgeon General Dr. Vivek Murthy, on Tuesday, May 19th, at 8 pm ET/5 pm PT, to talk about his new book and the subject of loneliness.
#KeepMarching online meetings are designed to give you the inside scoop on what's happening on issues and politics, give you direct access to MomsRising staff and leading experts, and fill you in on MomsRising's hot campaigns. We use Zoom online conference rooms, so you can participate via video conference or call in over the phone (though video is best so you don't miss visuals and because we love seeing everyone's faces!).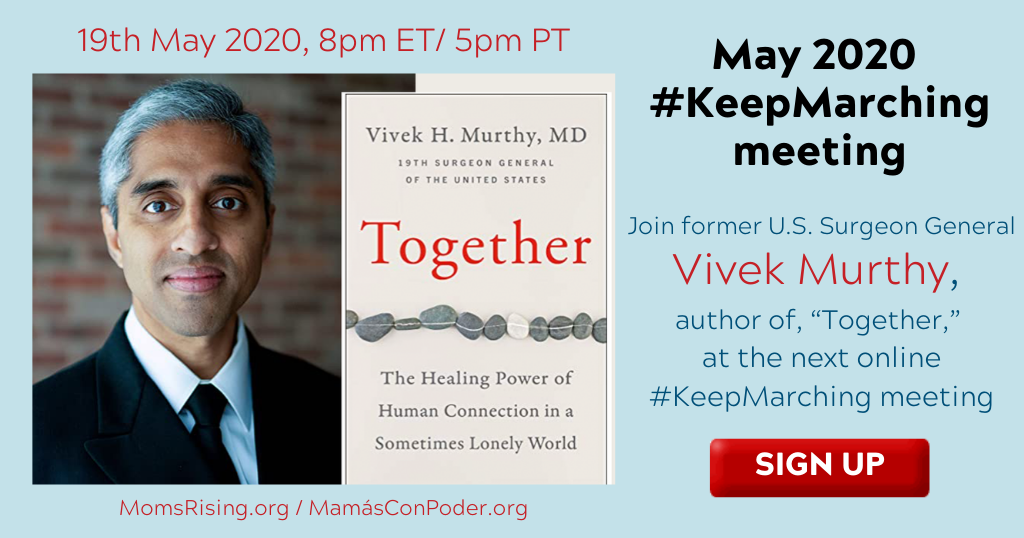 Please help MomsRising keep up our team-building work in 2020 and join us for our May 19th KeepMarching Zoom meeting at 8pm ET/5pm PT! RSVP NOW ⇒ https://action.momsrising.org/survey/km_webmeeting_VMLoneliness/
Looking forward to connecting with you over video or phone on Tuesday, May 19th!
Please share this blogpost with any friends and family you think would benefit from this conversation, so they can join, too.
Together, we'll #KeepMarching and never stop fighting for the change our families and communities need. And we'll never stop supporting and being there for each other.