Join Moms Fighting for Freedom from Toxics!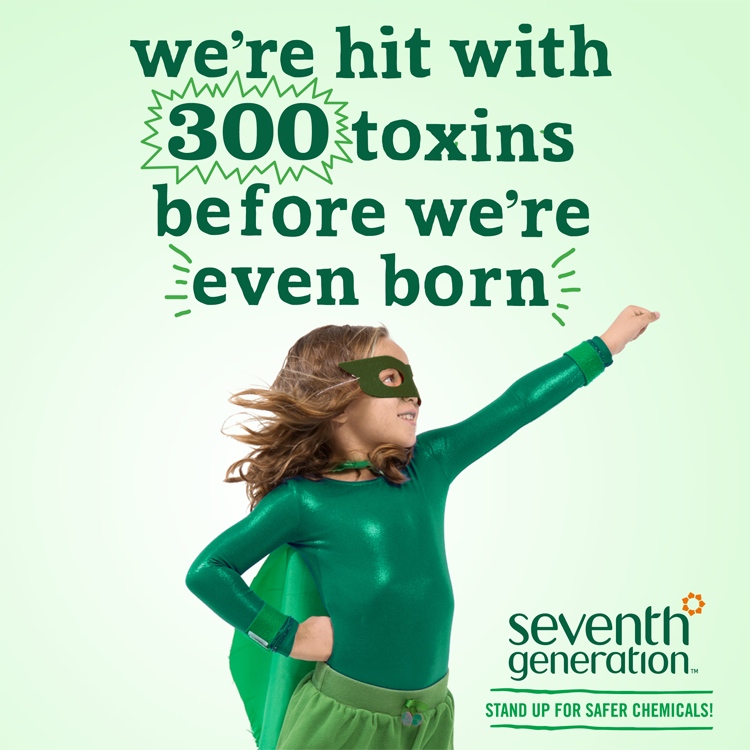 Did you see that Seventh Generation has taken a leadership role on cleaning up our toxics laws?
We've been blogging for years about the fact that over 80,000 chemicals are in products we use everyday– and they've never been tested for safety. Our kids are being exposed to chemicals that can alter their hormones, cause learning problems, early puberty, and many chronic diseases. Chemicals used regularly in consumer products are linked to cancers, infertility, early puberty, obesity, reproductive system problems, and learning disabilities. Since the Toxic Substances Control Act was passed in 1976, the EPA has required testing on less than 10% of 85,000 chemicals in commerce! Even cancer causing Asbestos can't be banned under this current law. Can you say broken? Our toxics laws need a massive overhaul to protect children and families. We can't do it alone.  Seventh Generation, along with our friends at Breast Cancer Fund, Women's Voices for the Earth, Healthy Child Healthy World, and Safer Chemicals Healthy Families  are working to finally reform TSCA  and better protect American families. Let's join them, and demand that Congress reevaluate the Toxic Substances Control Act for the first time since 1976.
Most people assume that products in stores are safe, and that they have been tested for safety. However, this is not the case. The EPA has the power to ban or limit  the use of chemicals known to be harmful to health or the environment. But what is troubling is that the EPA has reviewed the human health risks of only an estimated 2% of the 62,000 chemicals that were in used in 1976. As a result, the vast majority of existing chemicals have never been evaluated for potential toxicity to infants, children, developing fetuses, or adults.
While our federal government fails to update the ancient law that makes it impossible to ban even asbestos– it's up to us to demand that we protect all citizens from harmful chemicals. We need a comprehensive approach that is precautionary, where every chemical is proven safe before it is used in the production of consumer products. This is just common sense. Why should companies be able to add any chemical to products and make money from them while potentially harming families?
Parents are busy people. Jobs, meals, errands, homework, household finances, the list is long. Parents shouldn't need to be detectives or have a PhD in toxicology to know that their children are truly safe from toxic chemicals. But we have an obligation beyond our own children. We must look out for every child, every citizen in our great country. We could continue with this scattered approach that limits a toxic chemical only after it has harmed countless people– or put in a place a precautionary approach that would identify harmful chemicals, require that companies disclose them, and phase them out of commerce.
You can help create change – visit www.fighttoxins.com to sign the petition and learn more. The signatures will be delivered to Congress on April 30, 2014. We need your help to make sure they hear parents loud and clear! If we take the right steps, our children will all live a cleaner, and toxin-free life– and be healthier for it.