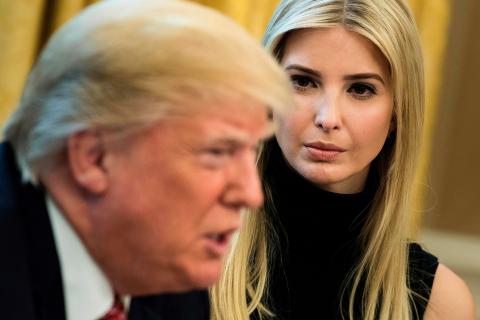 Ivanka Trump is set to release her new book today—Women Who Work: Rewriting the Rules for Success.
Earlier this year, we were happy to welcome Ivanka to the federal government where hundreds of thousands of union members tirelessly serve our country each and every day. As a senior adviser to her father, Ivanka is in a position of great power—one we hope she uses to honor her campaign promises. Moving President Trump in the right direction is most important to the AFL-CIO and the over 6 million working women of the labor movement—more than the words in any book.
While Donald Trump ran a polarizing campaign that often denigrated and objectified women, Ivanka took a much more inclusive stance and regularly highlighted issues affecting working women. During the Republican National Convention, Ivanka advocated for fairness in the workplace and talked passionately about eliminating the gender pay gap. She promised that her father would change labor laws to protect working women and fight for equal pay for equal work.
But so far the Trump administration has been more adversary than advocate. Just two days before Ivanka announced her new job, her father revoked President Barack Obama's Fair Pay and Safe Workplaces executive order, which required businesses that contract with the federal government to disclose workplace violations, including safety issues, harassment and discrimination.  
The Trump team also removed important safeguards requiring federal contractors to disclose their pay scale. Short of forming a union and bargaining for equal pay, transparency is one of the biggest tools that women have to ensure we are being fairly compensated compared with our male colleagues. 
By eliminating this much-needed policy, the Trump administration is rewarding bad corporate actors that mistreat workers, including working women. And instead of honoring Ivanka's promise, Donald Trump is changing labor law to set women back even further.
Ivanka Trump was forced to defend these actions during her first official overseas trip as a federal government employee, representing the United States in Germany at the W20 summit focused on gender equality. Needless to say, it did not go well. 
The fact that a gender pay gap still exists in 2017 is a national disgrace. The AFL-CIO last year released a survey of
over 25,000 working women. Across demographics, respondents made clear that equal pay for equal work was the top issue. As
more and more women become breadwinners, closing the pay gap will take on an even greater urgency.
According to the Economic Policy Institute, women make 22% less per hour than men, even after controlling for race and ethnicity, education, experience and where we live.
We know this occurs across sectors—whether it's actors such as Scarlett Johansson or the USA women's hockey team, which recently used collective action to win pay parity with male players.
While union members have the ability to come together and negotiate our salaries, thereby narrowing the wage gap, most women in the private sector don't have that advantage. Women in unions also have access to better health care benefits and retirement security, and on average earn higher wages than our nonunion counterparts.
On the campaign trail, Donald Trump promised he would help working people and openly campaigned for union votes. As a key adviser to her father, Ivanka should champion unions and the rights of all workers to bargain with their employer as one of the best ways to close the gender wage gap.
Ivanka also has an opportunity to prove that her father's administration is truly invested in advancing women's rights. That means ensuring we pass policies such as raising the minimum wage, preventing sexual harassment and violence against women, paid family medical leave, and access to quality child care that works for families and child care workers. Unfortunately, Ivanka's own child care plan is geared toward the wealthiest few.
Writing a book is one thing. Convincing Donald Trump to rewrite the rules of our economy so it works for working women is quite another. Ultimately, that is the standard to which Ivanka will be held.