PFML in WA!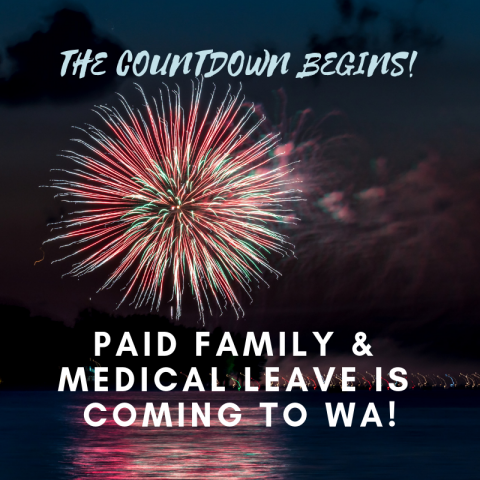 It's The Most Magical Time of Year For Family
Tis the season of jingle bells, holiday lights, and family gatherings. It's my favorite time of year, but this year it's even more special as our state readies to implement paid family and medical leave for all.
In 2017, I represented MomsRising at a negotiation table in the State Legislature with Republicans, Democrats, labor unions, big business, and women's rights advocates. Together with the support of thousands of families across Washington, we passed a best-in-nation Paid Family and Medical Leave program that same year. We did it!  
Learn more about how the new program will work here.
On January 1, 2019, that program officially takes flight as employees and employers begin paying payroll premiums to fund the Paid Family and Medical Leave benefits which start for Washington workers  on January 1, 2020. The average worker will contribute just over $2 a week -- less than the price for a cup of coffee.
You may be wondering, but why the one year delay? Well, this self-funded by us, the people of Washington, so it will take about a year for the reserves to build up and be able to pay out benefits. What's great about this funding model is it that it's protected and dedicated funding for paid leave -- it's like a savings account that is there for all of us when we need it.
Here's a quick snapshot of what the premiums (and benefits) will look like for employees and employers:   

So, what do you need to do to prepare for this milestone?
If you're an employee, you don't need to do anything. Your employer is responsible for withholding your premiums and paying them to the state. If your employer forgets to withhold premiums, they cannot retroactively take them out of your paycheck. The employer must cover the cost. To see what your premium contribution will be, check out the Employment Security Department's (ESD) premium calculator here. If you see more than the "employee" portion being removed from your paycheck for paid family leave, please contact MomsRising (wainfo@momsrising.org) and ESD immediately.
If you're an employer, you have new responsibilities in the year ahead. All businesses are required to withhold payroll premiums from their employees, track employee hours, and report premiums and hours to ESD. Businesses with over 50 employees are required to contribute an employer premium as well. If your business has fewer than 50 employees, you are not required to pay the employer premium but you have the option to. Businesses who contribute premiums and have fewer than 150 employees can qualify for assistance grants to help cover costs while an employee is on leave.
You also have the option of providing benefits through a self-funded and administered voluntary plan, or an internal PFML benefit program. These plans must be equal or better to the state plan and approved by ESD. Until you have an approved voluntary plan, you will still be required to participate in the state program.
Self-employed? Independent contractor? You can join too! A remarkable feature of this program is that it includes coverage for self-employed workers and independent contractors. But, you must elect coverage and work at least 820 hours under the program to qualify for benefits. You will only be responsible for the employee-portion of the premium (check out the premium calculator here). Once you enroll in the program you will be required to stay in for at least three years. ESD will be sharing information about how to enroll in early 2019. If you plan to elect coverage, make sure to budget the premium payment that will be due in April 2019 for the first quarter. If you want to learn more about how ESD will calculate hours worked for self-employed workers and independent contractors, you can read more here.