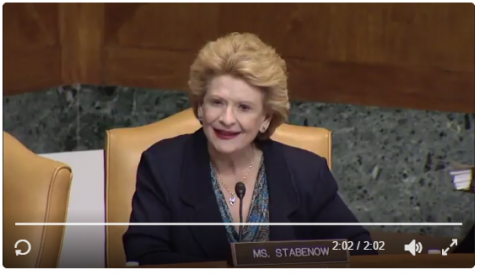 It's called 'having a country'
Last week, Office of Management and Budget Director Mick Mulvaney testified before the Senate Budget Committee about President Trump's FY18 budget proposal. Sen. Debbie Stabenow (D-MI) asked Director Mulvaney why the budget eliminates funding to protect the Great Lakes and other water conservation efforts. "On behalf of Michigan families," she said, "I'd like to know why you think it's not important to protect our water."
Director Mulvaney tried to justify the cuts by saying that the Great Lakes are a local concern, not a national issue. "I'm looking through this through the eyes of somebody in Arkansas," he said. "Can I really look them in the eye and say 'look, I need to take some of your tax money to go do something in Michigan…'"
Sen. Stabenow's perfect response? "Yes, that's called 'having a country,' with all due respect." You can see the video of the exchange here.
She went on to point out that 20 percent of the world's fresh water comes from the Great Lakes area, and as such, they are a major national resource.
But what if they weren't? While there are issues that are truly local in nature, shouldn't there be times when taxpayer dollars from one part of the U.S. are used to help citizens and resources in another? Shouldn't we all have a stake in ensuring all residents of our nation have safe water to drink, clean air to breath, food on the table, a place to call home, a good education, quality, affordable health care and other basic living standards?
Major disaster declarations have been declared in Arkansas five times since the beginning of 2014 due to storms and flooding. And each time, federal disaster assistance money has been made available to the citizens of the affected parts of the state. South Carolina, which Mulvaney represented in the House of Representatives, has received federal disaster assistance three times in the past three years. Following severe flooding in the South in 2015, assistance to residents and communities in South Carolina from the Federal Emergency Management Agency totaled well over $164 million. More than 28,000 people in 24 South Carolina counties received more than $89 million for individual and housing assistance. Of that amount, nearly $78 million was provided for temporary housing and repairs not covered by insurance and nearly $12 million for other needs such as medical bills, moving and storage expenses, and personal property loss. More than 11,500 families received rental assistance during the recovery. Eight emergency shelters housed a total population of 1,400. Nearly 3 million meals were served under the Disaster Supplemental Nutrition Assistance Program. In addition to the FEMA money given to individuals, 33 counties and the state received nearly $75 million in public assistance. Of that amount, more than $38 million was obliged for debris removal and emergency protective measures and more than $36 million was obliged for permanent repairs to public infrastructure. Then-Governor Nikki Haley (R) requested the disaster area designation for the affected counties to allow federal aid to flow to state and local officials and residents.
That money did not come solely from South Carolina taxpayers. It came from taxpayers in Michigan, Arkansas, the District of Columbia, and every other part of the U.S. It's called "having a country."
Personally, I don't have children, but I still have a vested interest in quality public education across the country. A more educated population leads to a more engaged citizenry, less crime, less poverty, a more productive and successful economy, and a better life for me and my neighbors, both those in D.C. and those in states thousands of miles away. It's called "having a country."
Across the nation, public support for safety net programs is strong. A new survey by the Pew Research Center found bipartisan support for maintaining or increasing spending for several entitlement programs and for other areas, including education and assistance to the needy in the U.S. Another new study conducted by the University of Maryland reveals strong support for greater federal efforts to reduce poverty.
Public investments to ensure basic living standards for all Americans should be what we do. But the Trump budget wants to end that. It wants to cut billions from desperately needed programs to give ginormous tax breaks to millionaires who don't need them. Instead, we should be investing that money in our families and our struggling neighbors, both near and far. Because that's what's called "having a country."
Will we come together as a nation to ensure basic living standards for all Americans, or will we follow Mulvaney's "that's your problem, not ours" mentality? Time will tell as the House and Senate move forward with their budgets and spending bills.
But you can weigh in on which way you'd like our country to go. This is the time for us to come together in opposition of the draconian cuts in Trump's budget. Sign a coalition letter (for local, state and national organizations) or a coalition petition (for individuals) urging Congress to pass a budget that promotes economic opportunities for all, safeguards and advances our basic living standards, and protects our environment. Because that's what's called "having a country."
This post was originally published on the Coalition on Human Needs' blog, Voices for Human Needs. Receive similar articles in your inbox by subscribing today, and follow CHN on Facebook and Twitter.