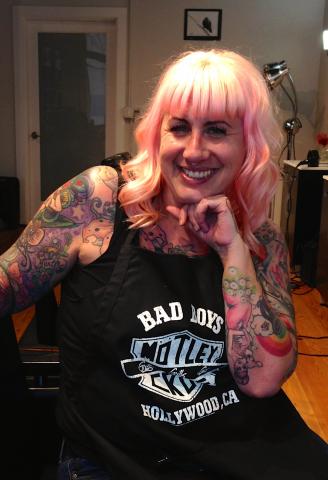 Is it a simple ear infection or a disaster waiting to happen?
Like many sandwich generation moms, I've been around the block when it comes to maladies of the ear. Both of my elderly parents are hard of hearing; and before my daughter reached 2nd grade, she had endured four ear surgeries.  So I thought I'd seen it all.
But the other day, I met a woman who forever changed my attitude about ears. Her name is Joie. At 38, Joie is the picture of health and good cheer.  She works in a bright, colorful salon in the heart of Ballard, the Scandinavian neighborhood of Seattle.  As she styles hair for clients of all varieties, Joie beams a ray of sunshine straight into their lives. Whether she's doling out funny diet tips (cut dairy and steer clear of the Norwegian bakery!) or conversing with an older woman about Social Security, Joie connects with everyone.
Yet life has thrown Joie some curve balls. Eight years ago, suspecting a garden-variety ear infection, Joie visited the doctor. There, she learned it was actually a scary condition called cholesteatoma that was eating its way through her middle ear, and was about to destroy her hearing. Even more disturbing, it could have spread to her brain and killed her.  Joie was promptly wheeled into OR for brain surgery.
The problem went away, and sometime after her surgery, Joie switched jobs. That is when she discovered how difficult it is for self-employed people to find affordable health insurance. On top of that, her ailment amounted to a big red flag, a "pre-existing medical condition," that most insurers cited as the reason they would not cover her; the few companies that offered coverage expected monthly premiums in excess of $1000. She just couldn't afford it. Though Joie wanted health insurance, she had no choice but to remain uninsured for several years.
In 2014, thanks to the Affordable Care Act, Joie visited Washington Healthplanfinder  and enrolled in a silver plan with good coverage, at a premium she can afford.  She was thrilled. "It's such a relief to know I can get the care I need, when I need it, and I no longer have to worry about my pre-existing condition," beams Joie.
But her story doesn't end there. A few months ago, her ear started hurting again. The scary condition had returned. For the second time, Joie was wheeled into surgery to save her hearing, and her life. She made a great recovery, her medical bills were covered, and she is doing fine.
"Life is good, but you never know when you're going to get hit by a truck," she quips as she encourages all of her friends, neighbors and clients to sign up for health insurance.
Check out Joie's You Tube
 #GetCovered today! Open enrollment ends Feb 15th