Introducing: Green Momma Parties!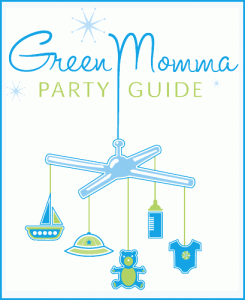 Detoxing your home shouldn't be a chore. Make it a party instead!
As a busy parent, you have a lot on your mind, and the last thing you want to worry about is exposing your baby to harmful chemicals in your own home. But it's not always easy to figure out where those toxic chemicals might be lurking. For example, did you know that:
Johnson & Johnson baby shampoo was found to contain formaldehyde – a known cancer-causing chemical?!
Or that Tide Free & Gentle laundry detergent contains 1,4-dioxane, also a carcinogen?!
Or that many canned foods contain Bisphenol-A (BPA), a hormone disruptor that interferes with the body's development - in the liners?!
And how are you supposed to figure out what the safe and practical alternatives are? And the thought of doing this all on your own?! Talk about overwhelming!
That's why Women's Voices for the Earth (WVE) launched Green Momma Parties last week! Designed for baby showers, parents' groups, or get-togethers with friends, Green Momma Parties bring parents together to make detoxing the home fun.
WVE's free Green Momma Party Guide is available for download online and has everything parents need to throw a great party, including steps for hosting a party, non-toxic tips and solutions for each room in the house, economical do-it-yourself recipes for safer products with how-to videos, and more.
It's estimated that between 80,000 and 85,000 chemicals are in use in consumer products in the United States, yet only about 200 of these chemicals have been thoroughly evaluated for safety. Babies and small children are particularly vulnerable to toxic chemicals because their immune systems and organs are still developing.
WVE believes that all products, especially those for vulnerable populations like babies, should be safe and non-toxic. That's why Green Momma Parties also include opportunities for parents to take easy actions to raise their voices together for safer products.
What's in the Green Momma Party Guide?
The Green Momma Party Guide includes everything you need to host a great party, including:
Room-by-room guide of hidden hazards and practical tips for avoiding them
Do-it-yourself recipes & how-to videos for each recipe
Action tips for busy mommas
A discussion guide to keep the conversation flowing
And much more!
So let's get this party started! Sign up today to host a Green Momma Party and get the free Guide, and join together with friends and family to start creating a non-toxic home for you and your baby!
Sample recipe from the Guide