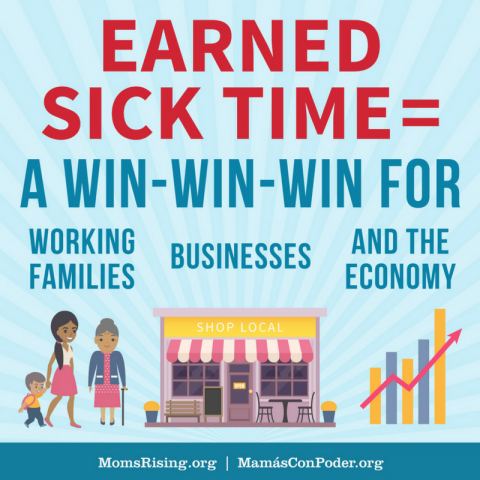 In need of some good news? You're in luck!
In need of some good news? You're not alone – and you're in luck because I have some GREAT news!
The Albuquerque City Council is considering paid sick days legislation this session and we have an opportunity to influence the scope and strength of the ordinance.
SIGN OUR LETTER to tell your Albuquerque City Councilor: Support a paid sick days ordinance that covers all workers – not just those who work at large businesses!
*** We'll be hand-delivering the letter and your signature to the Albuquerque City Council in about a week!
Raising your voice for paid sick days in Albuquerque will make all the difference for the city's working families and our economic security. Right now, more than 100,000 workers in Albuquerque can't earn a single paid sick day to care for themselves, their child, or another loved one when illness strikes. That's not okay because for an average family without paid sick days, just 3.5 days of missed work due to a cold or the flu is equivalent to an entire month of groceries.
ADD YOUR NAME: Albuquerque needs a strong paid sick days ordinance!
Susan, an Albuquerque MomsRising Member, shared the following:
"I own a small business and provide my employees with paid sick and family leave. It's a win-win for them and me - fewer concerns about spreading illness in the workplace, happier employees with higher morale and loyalty, more productive workers who aren't sick or worrying about family members. Lawmakers should know that paid sick days will benefit businesses too."
Paid sick days are a win-win-win for working families, public health, and the Albuquerque economy.
The consequences of not having paid sick days are particularly devastating for low-income workers, immigrants, the LGBTQ community, and people of color, who are far less likely to have the financial cushion for unpaid sick time — or health issues exacerbated by not being able to seek medical attention in a timely manner.
We want Albuquerque to be a city where no parent has to make the impossible choice between staying home with a sick child — and losing a day's pay or even their job — or sending their little one to school sick so that they can keep food on the table and make ends meet.
Tell your Albuquerque City Councilor: Support a strong paid sick days ordinance!
After all, paid sick days reduce turnover costs, boost workplace morale, and help stop the spread of illness among workers. What's not to love?!
Together, we're a powerful force for Albuquerque women and families.