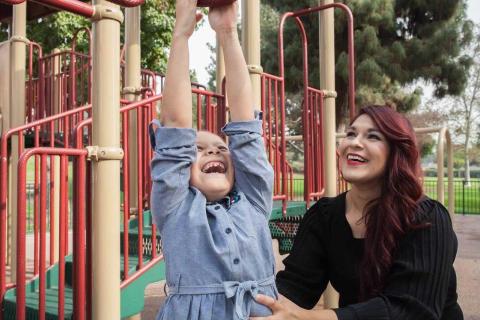 In a Time of Uncertainty, Let Us Commit to Keeping Our Kids Safe this Mother's Day
Being a single mother is tough. Doing the same job during a global pandemic has been nothing short of a seemingly impossible task that managed to get completed with each passing day. In March of 2020, as I was packing my luggage to make one of my many usual trips to Washington, D.C. for my work as National Director of Civic Engagement at NALEO Educational Fund, I received an e-mail letting all of the meeting attendees know that the gathering was canceled until further notice. Later that day, I received another e-mail from my employer, shifting us to all work from home until further notice. A few hours later, my daughter's school informed parents that out of an abundance of caution, all students would be asked to work remotely as well. Little did I know that just in a matter of days and weeks, I would be picking up a chrome book for my daughter to move into indefinite virtual learning, and my IT team would be mailing me my second computer screen and a printer for what seemed like the long haul of remote work.
During this time, NALEO Educational Fund was in the middle of running one of the largest and most robust 2020 Census campaigns the organization had ever seen. As our entire field team was shifting strategies and tactics in real-time into an all-virtual space in a matter of days, we were left with boxes of campaign swag that would go undelivered to avoid person-to-person contact. Little did I know that in addition to running a massive national census campaign, I would also become a co-teacher, tutor, and on non-school days I would be on full-time mom duty amid a sea of Zoom calls and other work-related matters.
With skyrocketing infection and death rates in Los Angeles County, alongside oscillating public health guidelines on socially distanced gatherings and full-on stay at home orders, I became increasingly worried about the health and safety of my elderly parents and, of course, the health and safety of my pride and joy – my eleven year old daughter, Rosita. As we continued to learn more about the pandemic our communities began to endure a bombarding infodemic—a sea of disinformation and misinformation around everything COVID-19 from mask effectiveness to existence of the virus itself—much of it coming from then-President Trump, himself. As COVID-19 began to closing in on every aspect of our lives, like many families, mine began having the awful experience of seeing loved ones go from being alive one week to passing away the next. As a mother I was scared, confused, and frustrated with those who refused to acknowledge the severity of the pandemic. Similar to other families, this frustration turned into an overly cautious mindset where we refused to leave our home or interact with anyone for some time.
It has now been over a year since I last stepped foot in my office, my daughter saw the inside of a classroom, or experienced any sense of normalcy. In this time, we have also mourned the death of over half a million of our brothers, sisters, and neighbors, many of whom were in already socio-economically devastated communities. This reality has highlighted the need for multifaceted recovery efforts that are rooted in justice so that our communities can emerge from this crisis with hope and resilience.
Despite these challenges, it has remained a rewarding honor to work on NALEO Educational Fund's Juntos Podemos (Together We Can) campaign, in partnership with Kaiser Permanente, to help encourage vaccine uptake in Latino communities. With last month's vaccine eligility expansion to include all populations 16 and older, there is a light at the end of the tunnel. And while my daughter is just eleven years old, and may likely have to wait until early 2022, for her vaccine, I have faith that as she and other children like her wait, the rest of us will fulfill our responsibility of getting vaccinated. As a mother, I can monitor what my daughter watches on TV, her nutrition, and even when she returns to in-person learning – however, I cannot control whether all those around us get vaccinated. That is why this Mother's Day – as we celebrate motherhood, we also celebrate our roles as mothers and what it means to be one—the protectors of our children. That is why it is incumbent on us to do all we can to ensure we are all vaccinated. This way, as life restarts and our communities rebuild, we will be setting the stage four our children to thrive with optimism for the future.
Let us make this Mother's Day a day of hope and duty, where juntos we keep our kids safe by committing to getting vaccinated.
Learn more about when, where, and how to get vaccinated at a site near you by visiting hazloporamor.org or vaccinefinder.org.