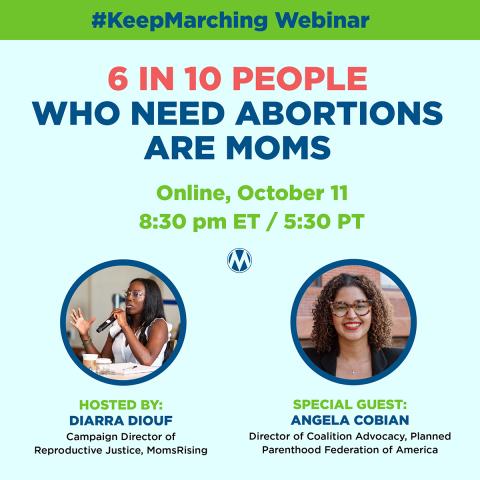 ICYMI → Video: MomsRising and Planned Parenthood are busting abortion myths
At our October #KeepMarching meeting, we learned the importance of comprehensive reproductive health education for moms, families, and communities.  
We are very grateful to Angela Cobian, Planned Parenthood Federation of America's Director of Coalition Advocacy, and Me! for helping us understand the challenges moms face in accessing reproductive care. We're even more grateful to every participant who listened, offered their experiences, and asked thoughtful questions.
I. In case you missed the meeting, or would like to review any part of the program, no problem, we recorded it! Click this link to watch in full: https://youtu.be/1fuzm2_e7uE
II. Resources to help you learn more and take action for Reproductive Justice:
SHARE your abortion and reproductive care story:

LEARN more about MomsRising's reproductive justice campaign: 

CHECK OUT Planned Parenthood's website: https://www.plannedparenthood.org/
III. We love meeting with members of our #KeepMarching community, and hope to see you at our LAST #KeepMarching meeting of the year. We'll be sharing details and sign-up pages soon, so stay tuned!