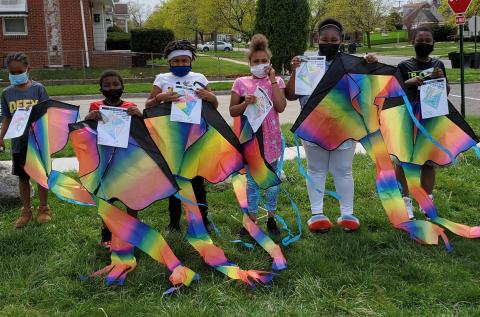 How to Safely be an Active On-The-Ground MomsRising Member, Even During COVID-19
At MomsRising, our members taking action on-the-ground form a core part of our mission to create a more family friendly America. Being an active on-the-ground member of MomsRising means volunteering to lead or participate in on-the-ground actions. If you are interested and able to participate in events in-person, we have opportunities for you! This could be meeting up with other moms to deliver a box of paid leave petitions to your U.S. Senator. It could also mean hosting a postcard writing party to get out the mom vote at your local park.
We know that COVID-19 has changed how we gather in person to take action. As spring approaches, thanks to masks, social distancing, hand sanitizer, and vaccines, we can safely participate in on-the-ground actions and keep building our MOMentum! When you become an active on-the-ground Momsrising member, you will have access to all the resources and guidance you need to either host or attend a successful event. We'll help you organize a postcard party, tell your story to the news media, or deliver signed petitions to your member of Congress's office. Perhaps even more importantly, you'll connect with other moms and build power in your community. Read on for what it looks like!
In 2021, MomsRising volunteers encouraged Congress to pass Care Economy policies. Here are 3 of many actions:
 
Kite Flying: In April, our Beacons hosted socially-distanced kite flying events to urge key U.S Senators to pass a recovery plan with care infrastructure provisions to make our families, economy, jobs, businesses and nation soar! Here are the pictures:
Care Economy Storybook and Button Delivery: In August, over 600 members signed up to deliver the Care Economy Storybook and buttons to the local office of their U.S. House or Senate member's office. The result? See some pictures below.
Summer Postcard Party: In July, we doubled the MOMentum and invited MomsRising members to host postcard parties to keep encouraging our ​​US Senators to build the Care Infrastructure. 
You too can become an active on-the-ground MomsRising member by signing up to lead on-the-ground actions or participate in them! Make sure you're signed up for our emails and subscribed to our texts by texting 'JOY to 747464' to hear about the latest opportunities to take on-the-ground action. You can also email keepmarching@momsrising. We cannot wait to hear from you!
MomsRising is committed to maintaining public health measures to practice safe advocacy during the pandemic. All event participants are expected to wear a mask, maintain social distancing, have weighed their own risk in attending, and follow all local safety guidelines. Individual hosts are responsible for compliance with their own local laws and event requirements (including orders limiting the sizes of events). Additionally, a core principle is a commitment to nonviolent, peaceful actions. All actions sponsored or organized on this page are intended to be nonviolent and peaceful. We expect all participants to act lawfully at all times and to seek to de-escalate any potential confrontation with those who disagree with our values.