How to Host a Green Super Bowl Party
Super Bowl Sunday is around the corner! Keep toxic chemicals out of your Super Bowl bash by making a few simple tweaks to your game day plan. Don't worry: You don't have to lose any of those traditional (insanely delicious) football-watching-foods. Try these top 5 easy tips for greening your Super Bowl party: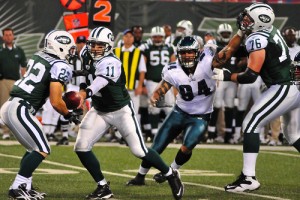 Photo credit: Photo by Flickr user Ed Yourdon
Skip the cans: Limit the BPA in your game day snacks by limiting your canned ingredients, or choosing BPA free alternatives. Soak beans overnight and boil them the next day for baked beans or bean dip. If you're making chili, avoid canned tomatoes or tomato paste and look for boxed or jarred alternatives. You can also replace canned tomatoes with cooked fresh tomatoes. For beverages, Healthy Child, Healthy World recommends choosing beer and soda in glass bottles instead of canned if possible.
Less packaging: Look for ways to reduce the amount of plastic and packaging you purchase for your party. Save money, and avoid packaging, by buying bulk snacks, sweets, and ingredients. Steer clear of overly packaged convenience produce, like prewashed lettuce, premade carrot sticks, or individually wrapped fruits or veggies. These items often carry a higher price tag. Look for loose produce at your supermarket, or use this tool to find a local farmer's market. Skip plastic tubs or bags by using minimally packaged ingredients to make one of your favorite snack foods at home, like potato chips or salsa.
Smarter produce: Veggies may not seem like a big part of your Superbowl menu. But a lot of traditional game day foods feature a few pieces of produce: cut up veggies for all those dips, chopped onions and peppers to top off a bowl of chili, celery sticks cozied up next to chicken wings. Remember to rub your fruits and veggies for 30 to 60 seconds under warm running water. Wash inedible peels; even though you discard the peel, cutting into the fruit or peeling the fruit can transfer chemicals into the fruits flesh through your knife. For edible peels, peeling non-organic fruits and vegetables is an easy way to avoid the chemicals that are absorbed into the peel.
Rethink disposables: If you can lose the disposable silverware and plates, that's great. If you can't, what about losing one of them? Keep your disposable plates, but use regular silverware. Use the restaurant trick of keeping a bowl of hot water by the sink and dump used silverware in the bowl so it's rinsed and ready for the dishwasher. Or add dishsoap to the water and give your soapy silverware a quick scrub and rinse when the party is over. Try bamboo or unbleached recycled paper products for dishes and napkins. Remember to make recycling obvious by clearly marking your recycling bin.
Lose the shoes: Lower your toxic chemical exposures by asking your guests to leave their shoes at the door. Lead-contaminated soil from the outside creates the majority of lead dust inside our homes. Leaving your shoes at the door can cut your lead dust levels by 60 percent, and also reduce your exposure to pesticides, dust mites, and more. Create a designated space for shoes by the door and make it obvious to your guests by putting up a sign, placing a mat in the space, or putting a few pairs of your own shoes there.
More Non-toxic Tips Tuesdays:
Do you have any green Super Bowl party tips or recipes? Leave them in the comments, or visit our Facebook page and share them with the MomsRising community.