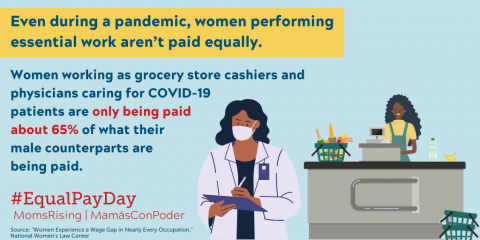 How to "Celebrate" Equal Pay Day in the Middle of the COVID-19 Pandemic
We're all feeling it — the weight of the COVID-19 pandemic and what it means for our loved ones and collective future, but we cannot ignore the many ways in which the coronavirus crisis is a gendered one, especially on Equal Pay Day – Tuesday, March 31st, 2020.
The virus is already greatly impacting women and moms and our financial security, but this is disproportionately the case for low-income women of color, who are overrepresented in many frontline jobs and industries experiencing massive layoffs. 
Pay inequity and the thousands of dollars that women lose each year to the wage gap have left women and their families dangerously vulnerable to the economic shock of the coronavirus pandemic. It is no coincidence that the commonsense policies necessary for curbing COVID-19 outbreaks and keeping families financially secure right now – like paid sick days and paid family & medical leave – also help close the gender wage gap. 
To mark #EqualPayDay, please join MomsRising and pay equity advocates across the nation in raising awareness about what women and families need to weather the storm of the coronavirus crisis and build long term economic security. Simply click the sample Twitter posts below to help spread the word!
CLICK TO TWEET: An #EqualPayDay PSA: #COVID19 has made it clearer than ever that low-wage workers – ⅔ of which are women – are always essential. It's time for Congress to recognize the value & dignity in all work by raising the minimum wage & passing #paidleaveforall (a boost for #equalpay)!
CLICK TO TWEET: On #EqualPayDay, we can't ignore the fact that working from home during the #coronavirus crisis is a privilege 70% of workers don't have. Low-wage Black & Latinx employees, who already experience unfair pay, are least likely to be able to #stayhome & stay employed.
CLICK TO TWEET: NY is exploiting prison labor & paying incarcerated workers, overwhelmingly POC, less than $1 a day to make hand sanitizer for the #COVID19 pandemic. Due to a Fair Labor Standards Act exemption, incarcerated women are regularly paid $0 for their labor in 8 states. #EqualPayDay
CLICK TO TWEET: Today is #EqualPayDay and we can't forget the fact that women EACH lose an average of $10,000+ to the wage gap each year – the equivalent of several months of rent. Amidst the #COVID19 pandemic, too many families are scrambling to be able to pay rent tomorrow.
CLICK TO TWEET: Our collective future is on the line and it's critical that as we navigate #COVID19, we center the needs & voices of the 1 in 4 women that have a #disability and experience ableism, hiring discrimination, and often sub-minimum wages year-round. #EqualPayDay 
CLICK TO TWEET: Rent is due tomorrow for millions of women & families, but nearly 1 in 5 households have already experienced a #coronavirus layoff or reduction in work hours. If we had #equalpay, Latinas would have an "extra" $28,000 from last year to each fall back on right now. #EqualPayDay 
CLICK TO TWEET: LGBTQ women of color are more likely to be raising kids than their white counterparts, but also more likely to be living in poverty - in part due to pay inequity. We must ensure these families have access to competent & affirming services amidst and beyond #COVID19. #EqualPayDay
CLICK TO TWEET: The #coronavirus pandemic has proven that #paidsickdays & #paidleaveforall are critical pillars of economic security & public health – and they help close the wage gap! Congress must pass these policies NOW because the need for them won't stop when the pandemic ends. #EqualPayDay
CLICK TO TWEET: Each year, women & families collectively lose $935 billion b/c we don't have #equalpay or #paidleaveforall. This #EqualPayDay we're calling on Congress to pass the #PaycheckFairness Act & the #PAIDAct to make #paidleave permanent & boost all families during the pandemic & beyond!
CLICK TO TWEET: Low-income moms of color are most likely to be breadwinners for their families & at the same time, incredibly vulnerable to pay discrimination and the economic & health impacts of the #COVID19 crisis. Congress must center their needs in the 4th response package! #EqualPayDay 
CLICK TO TWEET: TODAY is #EqualPayDay and International Transgender Day of Visiblity. Trans women must always be visible in efforts to close the #wagegap because their wages fall by ⅓ after transition & trans #WOC experience extremely high rates of poverty & workplace discrimination. #TDOV  
CLICK TO TWEET: With school and daycare #COVID19 closures, moms are juggling even more unpaid labor this #EqualPayDay than usual. If women in the U.S. were paid minimum wage for their caregiving and house work, we would have collectively made an extra $1.5 trillion last year!