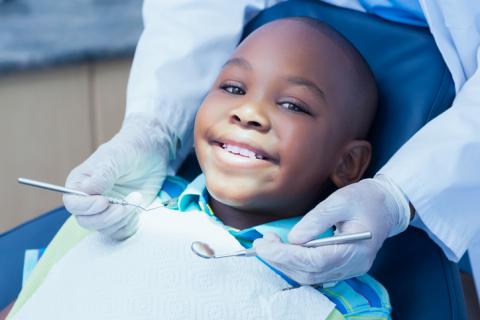 How can we keep NC's kids smiling? Oral health matters for NC
Few things touch a parent's heart like the smile of a child. Unfortunately, tooth decay is the most common chronic disease of early childhood and the health consequences can be painful, lifelong, and even deadly.
Here in North Carolina many families struggle to access oral health care. In focus groups across the state, MomsRising members told us how the high-cost of care and language barriers make it challenging to access care for their children or themselves. Even for families with dental care coverage (either through private insurance or Medicaid) issues of affordability, geographic access and cultural competence continue to be insurmountable obstacles to care. There are three counties in North Carolina that don't even have dentists! 
Clearly, things need to change. MomsRising is partnering with the NC Oral Health Collaborative to educate our state's legislators on why oral health matters and let them know about easy ways to invest in prevention. But we need your help!
Can you join us at the 2nd annual Oral Health Day at the Legislature on June 5th? We'll be learning more about the oral health challenges that NC faces, meeting with lawmakers, and sharing lunch. RSVP here to join us!
***Even if you can't make it to Raleigh that day, we still need your voice. Can you leave a quick comment here about what having–or not having–access to oral health care means for your family? These real-life stories are so important for moving policy.
Why is tooth decay so serious? Children with untreated tooth decay not only suffer pain and infection, they have trouble eating, talking, socializing, sleeping, and learning, all of which can impair school performance. Left untreated, dental disease can lead to emergency room (ER) visits, hospitalizations, and even death.
Dental care remains the greatest unmet health need among U.S. children. In fact, tooth decay is a condition that is 2-3 times more common than asthma or obesity.
Yet the saddest, or perhaps the most inspiring aspect of this situation, is that it is TOTALLY PREVENTABLE. It's sad because we've let things get this bad.
But it's inspiring because we can now choose to make things better. That is why Oral Health Day is so important. Our legislators need to hear about the challenges families face and about prevention options that make a big difference without tremendous cost.
Can you pull out your calendar and plan to join us at the legislature on June 5th from 9 am-1:30 pm (or as much of it as you can!)? Having you there, even if it's for a brief time, makes a big impression. RSVP now to let us know if you can make it.
Health equity is at the heart of any conversation about oral health care. More specifically, we have to talk about who has access and who doesn't have access to good oral health care.
In our state:
3 NC counties have ZERO dentists;
North Carolina ranks 47th in the nation in terms of dentists per capita; 
In NC, nearly 40% of children entering kindergarten have already been affected by tooth decay. These numbers are almost double in some ethnic, rural, or low-income communities; 
Children with poor oral health status are three-times more likely to miss school as a result of dental pain; 
According to the Centers for Disease Control, 47.2% of adults have some form of periodontal disease. And health disparities continue into adulthood for many racial and ethnic groups, by socioeconomic status, gender, age and geographic location; 
More than 1/3 of NC pregnant women did not have dental insurance during their pregnancy; 
Only 27% of NC dentists participated in Medicaid for child dental services in 2014, compared with 42% nationwide, making access for Medicaid families more difficult. From 2003 to 2013, reimbursement rates for child dental services in NC decreased 22.1% in our state; 
North Carolina has a higher per capita rate of emergency room visits than the national average, with 70 visits per 10,000 as compared to 39 visits per 10,000 nationally. 
Our state has done a great job of ensuring that young children have access to fluoride varnish treatments in their pediatric visits through the nationally-recognized Into the Mouths of Babes program.
But there's lots of room for improvement in ensuring all NC kids have access to quality care. For example, expanding access to dental sealants, the plastic coatings placed on the chewing surfaces of teeth, could do wonders for North Carolina's children. Dental sealants can reduce decay by 80 percent (!!!) in the two years after placement, and continue to be effective for nearly five years. Dental sealants have been endorsed by the American Dental Association and they cost less than 1/3 of a filling. Yet despite all of this compelling evidence, NC has not yet maximized access to and use of this preventative measure. This is just one of many ways our state can help prevent unnecessary pain and health risks among our children.
North Carolina CAN do better at ensuring ALL of our state's children have access to the preventative care they need. It just requires that lawmakers develop the will to make it happen. You can help ensure NC lawmakers make oral health a priority by joining us for Oral Health Day on June 5th. Let us know you can make it by RSVPing here.
Whether or not you can make it to Oral Health Day, we need your voices and experiences to ensure NC lawmakers understand why oral health is so important. Can you leave a quick comment here about what having–or not having–access to oral health care means for your family?
Every child deserves a smile they can be proud of–and we can make it happen, together.