Yesterday, the the National Oceanic and Atmospheric Administration (NOAA) announced July was the hottest month ever recorded for the United States.[1] If you have asthma, then you know how heat can be a major trigger for asthma attacks. [2] For the nearly one in 10 U.S. kids who have asthma, this has been one bummer of a summer. [3]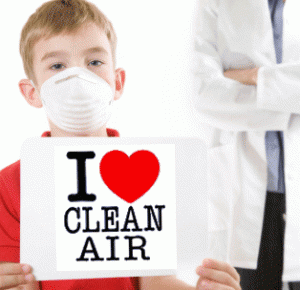 While we at MomsRising can't make it cooler for families across the country this summer, we are working right now to fight against another big asthma attack trigger: Soot.  Breathing soot does serious damage.  Studies have shown that once you breathe air with diesel soot, 50% of the soot particles – yes, half! –  can stay in your lungs. [4] These nasty soot particles can trigger asthma attacks, stunt lung development, and even cause cancer. [5], [6], [7]
Right now, the Environmental Protection Agency (EPA) is proposing new soot standards. Help us tell the EPA that families want the new Soot Standards as soon as possible in order to clean up our air:
http://action.momsrising.org/sign/soot_2012/#
** Make sure you sign today!  The EPA is accepting public comments for only a few more weeks.
What's the lowdown?
Soot, or fine particle pollution, comes from a variety of sources, including diesel fuel, power plants, and fires. It's microscopic, burrowing deep in the lungs, making it extremely difficult to expel.
The EPA is proposing new soot standards that would lower the allowable amount of fine particles -- soot -- in the air from an annual average of 15 micrograms per cubic meter to 12 or 13 micrograms per cubic meter. [8]
We need to push the EPA to go further. Public health advocates like the American Lung Association recommend that the EPA set standards for fine particles at the lowest end of its proposed range of options -- at 11 micrograms per cubic meter, rather than at 12 or 13. [9]
Let's do everything we can to protect the little lungs of our kids.  Ask the EPA for new Soot Standards  in order to clean up our air.
http://action.momsrising.org/sign/soot_2012/#
It's going to take a lot of us speaking in favor of new soot standards to make sure the EPA is ready to face resistance from some Congressional leaders and big pollution lobbyists. [10] So take a moment to share the link above with a few friends by posting the link on Facebook or forwarding this email to two or three friends.
It's hot enough already, and the last thing we need is soot in that stifling air.
Together we are a powerful voice for children and families!
P.S.  A huge thanks to the American Lung Association for all of the work they have done on this important issue.
[1] "July was hottest month ever for continental U.S.: NOAA," Reuters, August 8 2012
[2] "Summer asthma is on the rise as heat makes breathing difficult," WGEM NBC News, July 13 2012
[3] Centers for Disease Control and Prevention (CDC)
[4] Journal of Aerosol Science, July 2012
[5] Gauderman WJ, Vora H, McConnell R, Berhane K,Gilliland GF, Thomas D, Lurmann F, Avol E, Küenzli N, Jarrett M, Peters J. Effect of Exposure to Traffic on Lung Development from 10 to 18 Years of Age: a cohort study. Lancet 2007; 369:571-577.
[6] Ibid.
[7]
[8] "EPA Proposes Clean Air Standards for Harmful Soot Pollution/99 percent of U.S. counties projected to meet proposed standards without any additional actions," EPA June, 15 2012.
[9] "More Protective Soot Standards Will Save Lives, Protect Fragile Environments," American Lung Association, June 15, 2012.
[10] "EPA to hold hearing on soot regulations today in Sacramento," Sacramento Bee Jul. 19, 2012