Green Momma Twitter Party This Thursday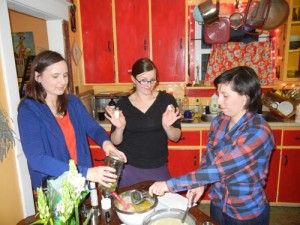 Does the thought of trying to get toxic chemicals out of your home make you want to run screaming in the opposite direction? BPA in cans, cancer-causing chemicals in baby shampoo, hormone disruptors in laundry detergent – do you start to get completely overwhelmed?

What if we told you that detoxing your home can actually be fun?
Yep, fun – we promise! Green Momma Parties are the newest DIY party that makes creating a non-toxic home fun and affordable. Women's Voices for the Earth's (WVE) free Green Momma Party Guide has everything you need to host a great party, including a room-by-room guide for eliminating harmful chemicals, do-it-yourself recipes with how-to videos, and more.
Want to find out more? Join WVE and MomsRising as we debut the Green Momma Party Guide at our Twitter party this Thursday!
Green Momma Twitter Party
Thursday, June 14
6:00 PT/9:00 ET
#greenmomma
Follow @women4earth and @MomsRising
Go to www.tweetgrid.com to join the party!
Get the skinny on where toxic chemicals are lurking and get practical and economical solutions for each room in the house, check out new DIY recipes, learn how to take action to make products are safe to begin with, and chat with responsible companies making safer products.
Oh yeah – did we mention there are prizes? Check 'em out below and we'll tweet with you on Thursday!
Prizes:

6-Pack of Little Changes books

By WVE member Kristi Marsh.Great for book clubs, women's groups, organizations, or for sharing among friends and family!

Modern Mermaids LLC
Everyday Sea Spray All Purpose & Glass CleanerModern Mermaids is changing the name and AUDRA'S will be launching with certified organic ingredients this fall!

Ecostore USA
3 Products of Your Choice

Women's Voices for the Earth Tote BagMade from recycled bottles by a women-owned & operated company