Green Momma Parties Empower Moms with Knowledge & Action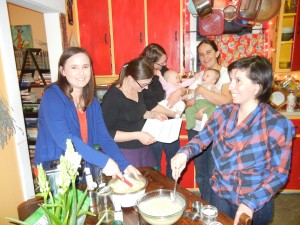 Who doesn't like parties? Especially a party with a purpose - yes, please!
Women's Voices for the Earth's new Green Momma Parties are the latest DIY party that makes detoxing the home fun (yes, we said "fun"). With a room-by-room guide for eliminating harmful chemicals, do-it-yourself recipes with how-to videos, and easy ways to raise your voices together for safer products, Green Momma Parties empower women with knowledge, solutions, and action.
But don't take it from us. Take it from the experts who are on the ground and in the thick of it -- the ones who know all about the need to balance responsibility with fun, and the incredible power of moms to make a difference when it comes to protecting our children's health.
My Baby's Green loves Green Momma Parties for coming to the rescue. Cancer-causing chemicals in Tide Free & Gentle, formaldehyde in Johnson & Johnson's No More Tears baby shampoo, toxic flame retardants in nursing pillows, BPA in baby bottles… who wouldn't feel completely overwhelmed at the thought of trying to rid your home of all these toxic chemicals?! Green Momma Parties actually make it fun and easy to figure out where toxic chemicals are hiding and what the practical solutions are.
Groovy Green Livin' explores Green Momma Parties as a way for women to use some of their consumer and political power. Women make 85% of consumer decisions, which is a TON of consumer power. And regardless of political party, women rate toxic chemicals in our environment as a top concern. So in between the cocktails and appetizers, home detox tips, and making DIY recipes, you get to raise your voice for safer products and actually make a difference on a national level.
That's Amasian sees Green Momma Parties as a tool to make things easier amid the chaos so easily created by two small children. And the best part is that it brings other new moms together with you to share in the journey to detox your home.  "These tidbits of advice are best learned from other moms, and WVE recognizes that new moms learn best from other moms." What better venue to learn tried and true solutions and creative ideas from your friends than a Green Momma Party?
Climate Mama believes that "changing our own behavior to create a more sustainable world at home and beyond helps us build the confidence and experience to encourage others to do the same," and a Green Momma Party is a fun way to get your girlfriends together to do just that. And not only is it fun, but a Green Momma Party is a great way to take control of an issue (toxic chemicals everywhere!) that can often feel overwhelming.
Flour Sack Mama took the Green Momma Party to the Lavender Festival in east Tennessee, where she enticed people to her table with the opportunity to make Safe & Reusable Diaper Wipes. She used the Green Momma Party materials as a conversation starter to educate people about toxic chemicals in household products, and then gave them the chance to do something about it – several people signed a petition asking their senators to support the Safe Chemicals Act right then and there.
AKA Mom loves Green Momma Parties because they're empowering. With so many headlines, statistics, and reports out there, you can easily be intimidated into thinking that you can never detox your home on your own, or into thinking that you need a PhD to understand it all. Green Momma Parties take the most important information and make it easy to understand, and even better, offer realistic and do-able non-toxic solutions.
So, are you enticed? Curious? Ready to make a difference in your home, community, and beyond? Download Women's Voices for the Earth's free Green Momma Party Guide with everything you need to have a great party, including a step-by-step host guide with a suggested agenda, discussion guide, and more. And don't forget the cocktails and appetizers - it's a party, after all!
Sample DIY Recipe from the Green Momma Party Guide