Get Proactive: Heart Disease Can Be Prevented
Haga clic aquí para leer el artículo en español.
As a busy working Mom and the sole provider of my family, I worked hard and played hard. I did not want my sons to lack what they would have had in a two parent household. As a result, I drove myself into the ground, sleeping 4-5 hours a day and grabbing a cup of coffee whenever I needed a quick pick me up. Lacking time, highly processed foods were my go to. I never realized the risk I was placing my family in.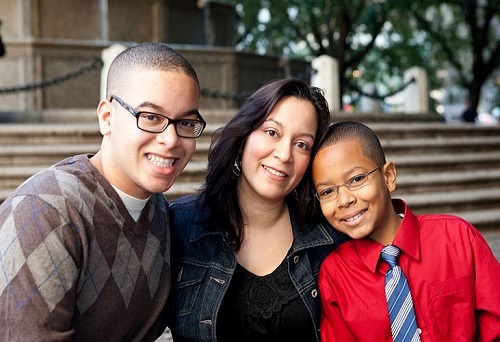 Heart disease runs in my family. Ten family members have undergone open heart surgery. Others, like my mother, father and brother, are on medication to lower their cholesterol and/or blood pressure. Yet, I never believed I or my sons were at risk.
During a routine annual exam, I learned I had high cholesterol. Worse yet, my then 15 year old son was diagnosed with high cholesterol and high blood pressure. I was devastated. I knew my lifestyle was the problem.
I talked to our doctor about the changes we should make and found resources like Go Red for Women that offer advice on how to live a heart healthy lifestyle and a supportive community, (1) I began making changes in how I cooked, embracing healthier foods, and centering our family gatherings on an activity, instead of a meal.
Our wellness visit to our doctor was key in changing our lives.
That's why I'm excited that the Affordable Care Act is making it easier for doctors and their patients to take action to prevent health problems before they start. For many women, preventive services like mammograms, Pap smears, birth control, and yearly well-woman visits are now available without cost sharing.
Moreover, starting next year, insurance companies will no longer be allowed to refuse women coverage just because we are battling breast cancer or have another pre-existing condition – and they won't be allowed to charge us more just because we are women.
And if you're one of the millions of women who are uninsured or who buy insurance on their own, on October 1, 2013, you will be able to visit a new Health Insurance Marketplace where you can compare and choose from a range of plans to find one that best fits your needs and budget. All of these plans must cover a package of essential health benefits, including maternity and newborn care.
To get more information about the Marketplace and to sign up for email and text updates to get ready for October, visit HealthCare.gov and check out the video message from Secretary of Health and Human Services Kathleen Sebelius.
Being healthy starts with each of us taking control.
It's been a little over three years since our initial diagnosis. We no longer use food as a reward or a reason to gather; instead we've come to realize that our gatherings and triumphs are that much sweeter when they are savored on their own merit. As an additional and unexpected benefit, we've learned to communicate better with one another and have a richer life because of this wake-up call.
I share my story during National Women Health's Week, in the hopes that it will help another woman, another family, to take some small steps to a healthier life.
Join me and the rest of the MomsRising team in celebrating National Women's Health Week and playing Healthy Moms BINGO! The MomsRising BINGO card lists 25 simple, healthy activities that are small, important steps we can all take to improve our health and start more healthy habits.
FN (1) Go Red for Women was created by the American Heart Association to dispel myths and raise awareness of heart disease as the number one killer of women. http://www.goredforwomen.org